Iggy and the Stooges
It sucks to be ahead of your time...
The trick is to live long enough to be fully vindicated and reap the emotional (and financial) rewards of those years of isolation, when you thrashed and screamed and spilled your guts - and waited for the world to catch up.
When the Stooges first visited Boston, at the legendary Boston Tea Party September 9-11, 1969, it was as the support act for Ten Years After. One of the more bizarre bookings in rock history, the Ten Years After fans didn't know what to make of this no-holds-barred fury and their contorting and threatening whirling dervish of a frontman, Mr. Iggy Pop (a.k.a. James Newell Osterberg).
The assembled peace-loving hippies here in Boston did something far worse than just spew verbal abuse and hurl objects onto the stage, that night. They responded with total silence. Iggy reacted the only way he could, by throwing himself directly at them and cutting himself until he bled, while taunting and mimicking. In the end, he won them over. He went on to storm the stage of peace-loving hippie culture
Musically they were a decade ahead of everyone else, but their startling originality and Iggy's mesmerizing stage presence and in-your-face performance style turned curiosity seekers into fans. The albums were only modest sellers, but their shows drew increasingly larger audiences.
The original line-up was Iggy on guitar and piano and brothers Ron and Scott Asheton on bass and drums as an instrumental trio, incorporating things like a blender, a vacuum cleaner and an oil tank into their live performances. In early 1968, Dave Alexander was added on bass, Ron moved to guitar, and Iggy - after seeing Jim Morrison and the Doors - decided he would sing. This was the band for their self-titled debut album. For their second release, Fun House, Steve Mackay joined them on saxophone, adding a free jazz vibe to the proceedings. Their first two albums were highly experimental - a punk sensibility for sure, but with psychedelic, jazz, and stoner elements mixed in.
After Fun House, James Williamson replaced Dave Alexander on guitar in time for their 1973 release Raw Power, widely considered the blueprint for punk rock bands in the late '70s and beyond. This album epitomizes the nervous energy and immediacy of punk rock and heralded for the Stooges a more traditional rock sound with searing lead guitar. It was also the start of the productive songwriting partnership of Iggy and Williamson.
Stooges live shows were legendary, with Iggy writhing and throwing himself around on and off the stage, from a little self-mutilation and getting up close and very personal with audience members, to some good old-fashioned exhibitionism in the heat of the moment, forcing the audience to become part of the performance whether they wanted to or not. It was Iggy who first crossed the proscenium and popularized, if not invented, the stage dive - now a symbol of the unpredictability of live rock shows, which these days are most often choreographed and clichéd. The craziness grew, helped along by hard living which would soon take its toll. By the mid '70s, he and the band realized they had had enough, performing their final show on Feb. 9, 1974 at Detroit's Michigan Palace.
The Stooges went off in different directions, but Iggy and James collaborated on a few more projects before the former went on to a successful solo career, and the latter to an equally successful career in computers and electronics (Williamson recently retired from Sony Electronics where he was a Senior Vice-President). They recorded what might have been the fourth Stooges album, but instead became Kill City, an interesting and adventurous work which is being remixed and remastered for release in October.
Meanwhile, the world was catching up to where the Stooges had already been. Even before the entire punk rock genre was born out of their early work, there was the wave of glam and performance art bands - Alice Cooper, The New York Dolls, Black Sabbath, Kiss - who surely all took notes on Iggy's stage antics and confrontational, electric performance. That goes for David Bowie as well, who had helped get Raw Power recorded and released, and who became a close friend of Iggy's, helping him through some harrowing times as he battled his personal demons.
"Mass recognition is not what's important to me, what's important is individual recognition. In other words, it's not how many people recognize you, it's what the people who do recognize you, recognize you for. To me the biggest band is the band that's biggest in the hearts of the people who listen to it. But on the other hand, large numbers of people can... That's attractive too. Fame and notoriety and money and all those things are attractive. But they're not really attractive to me as the musical forest in which I live. I'm not gonna come out of my musical forest for anybody. Because I already know you're fucked if you do!"

Iggy Pop 1970
[Zig Zag Magazine.]
In the late '70s, when The Sex Pistols, The Ramones, The Clash and The Damned burst onto the scene, they owed their very existence (or perhaps I should say, their longevity) to the Stooges, who with blood and guts and a steadfast belief in what they were doing when others were clueless, paved the way for a wider acceptance of punk rock music. In the current world climate, the time was ripe.

This decade has been a strong show of force by the Stooges, coming back to claim what was always rightfully theirs. In 2005, Elektra and Rhino reissued remastered 2-CD editions of their first two albums, and there have been various book and DVD releases. They followed the Skull Ring recordings with The Weirdness in 2007. Since that Coachella appearance, they've toured extensively around the world, performing in Boston at a sold out the Orpheum Theatre in April 2007.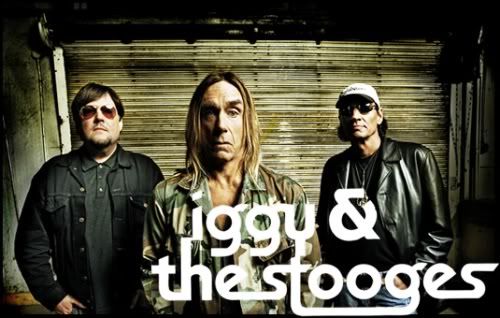 Sadly, the September 2008 show in Slovenia was to be their last performance with Ron Asheton, who died tragically of a heart attack at the start of the new year. After some solo performances from Iggy in the first part of 2009, it was announced that James Williamson would rejoin the Stooges. He hadn't played live with them since 1974. His first show with the Stooges was back in November in Sao Paulo, Brazil, and they've been touring mostly in Europe since then.
Coming back from the unexpected loss of one of their founding members, 2010 has been an exciting and gratifying year for the Stooges and their fans, beginning with the ridiculously long-overdue induction of the band
into the Rock & Roll Hall Of Fame
. Then there was the re-release of Raw Power, the first remastering of David Bowie's original yet at the time controversial mix, which also includes a 1973 live performance. The deluxe version has an additional disc of rarities and outtakes, and DVD documentary with interviews and performance footage.
Next up is the remastered Kill City, set for release October 19, an album which Iggy describes as his "indie record." It indeed pushes boundaries and shows musical maturity well beyond its predecessor.

Having toured madly in Europe all summer, they'll be ending this round of live appearances with
just 3 more U.S. shows
- Boston's House of Blues on Tuesday, August 31 being one of them. Originally booked at the twice as large Bank of America Pavilion, this HOB show is definitely one you won't want to miss!
remaining U.S. dates
Chicago - August 29th - The Aragon
Boston - August 31st - The House of Blues
ATP - September 3rd - (Kutsher's Country Club - Monticello, NY)