In Our Ears: SLEIGH BELLS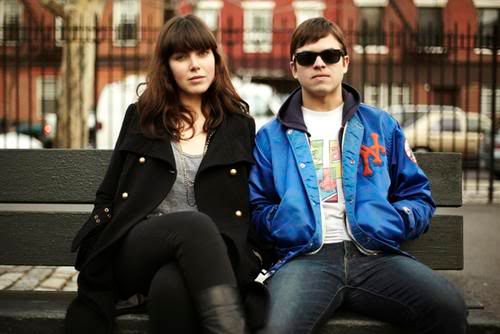 Sleigh Bells:
Alexis Krauss and Derek Miller
photo by James Ryang
Its a fairly well established fact that you cannot go to SxSW and see all the bands you want to see. For me, that band I missed this year was

Sleigh Bells

. I had only heard a couple of their songs, but there was something intensely engaging about this aggressive electronic music that made me want to catch them.
Sleigh Bells is a duo from Brooklyn made up of Alexis Krauss and Derek E Miller. They have a fascinating combination of hip beats, keys, metal and an occasional sweetness that can catch you unaware. Alexis appears to be as comfortable singing sweetly to "Have a Heart" on songs like "Rill Rill" as she is to belt out about "Dumb Whores" on songs like "Infinity Guitars".
From the rave reviews that I've heard sense, it appears Sleigh Bells' performance lives up to the high expectations set by the overall bad-assery of their first album, "Treats". Luckily, I wil
l have the chance to see for myself on

Thursday, July 22nd

at the

Royale

, here

in Boston. [

tickets

]

I am eagerly awaiting
the opportunity.