Passion Pit - Meet the Band!
Free Tickets / Meet & Greet!
Royale is Ground Zero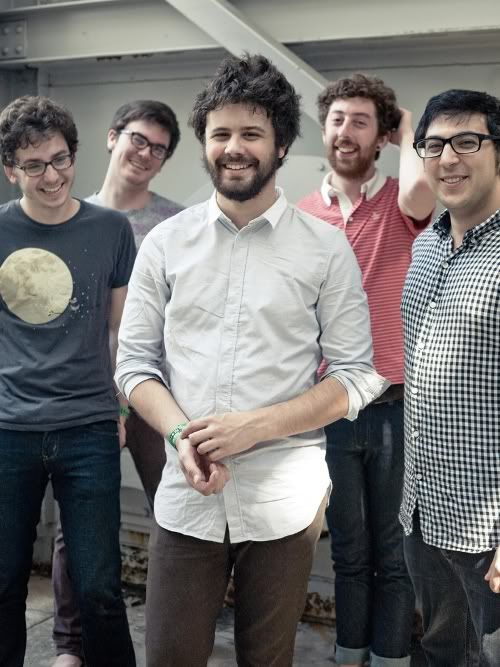 A free

Passion Pit

show in Boston on Saturday
is being sponsored by new charge card ZYNC
The times they are-a-changin'
, Bob Dylan said that nearly 4+ decades ago and the tide is still changing - and faster than ever. Certainly true as evidenced by the completely viral success of
Passion Pit
, a diverse group of whip-smart guys often attributed to having a Boston start but who clearly belong to the world at this point. Having made a number of Best of Lists in 2009 (including our own) the band have remastered and re-released their debut and are now playing dates in front of their largest audiences to date.
Passion Pit plays a recent viral media event in New York
Saturday's free show in Boston is sponsored by ZYNC
- a new charge card under the American Express mantle. The pop up show is nothing new but the nature of its order and magnitude in this case represents a bold, new approach by corporate America as they attempt to reach young people. According to a ZYNC card press release, cardholders can customize their ZYNC Card with a "music pack," which gives them all kinds of music-specific rewards and benefits, such as pre-sale access to concert tickets and events, special experiences at Festivals across the country, like Coachella, and double Membership Rewards on concert tickets through vendors like Ticketmaster." That's just good marketing and knowing your audience. It also reflects the new age of consumerism. Let's hope the people from ZYNC also know how to put on a good show.
Change is indeed in the air.
Passion Pit arrives in Boston again to play a date at Boston's
Royale
- an emerging player of a live venue that has itself reinvented itself under the management of the successful independent Bowery Group out of NYC - a group challenging the notion of single-sourcing live entertainment. By taking over a theatre more known for its over-priced drinks and, at times, stuffy crowds - a new paradigm has been set and a shot has been fired across the bow of LiveNation/Ticketmaster's near monopoly of live entertainment venues in New England. Whether this is a good thing or even a necessity, remains to be seen. It's hard not to believe that different eyes and ears making competitive waves and bringing in talent could ever be a bad thing. Let's hope this goes well for them and the entire regional live market succeeds.
PASSION PIT

at Royale
279 Tremont Street, Boston, MA
Saturday, June 26, 2010 at 8:00PM
Doors open at 6:30PM
There are No Public Tickets Available.
Would you like to attend & actually meet Passion Pit?
Here's How:
Email Us
Directly
with "
I Want to meet Passion Pit
" in the subject line. Inside the email you must list your full name.
Rules:
You Must be 21 and You Must be able to attend. Tickets are non-transferrable. Multiple entries from the same email address and name will see you disqualified. (
Don't load up my email, dude.
)


Facts:
Only 3 Pairs of tickets will be given away. The Winners will be selected randomly from all entries received.
Yes, I am told that you will have a chance to meet the band as well as seeing them play live.
The Rest will just have to sit it out.
Good Luck.
[Ed's Note - *
Just, in case you didn't know me well enough yet - I never, ever submit your information to anyone during these contests. We are the only one who see your information and the entries are tossed after the contest is over. There is no risk or cost to enter. We just ask that you come again to the website and tell a friend!
]