Matt Pond's The Dark Leaves
LIVE SHOW PREVIEW
!
by

Sean from 5342 Studios
Boston Live Pick of the Week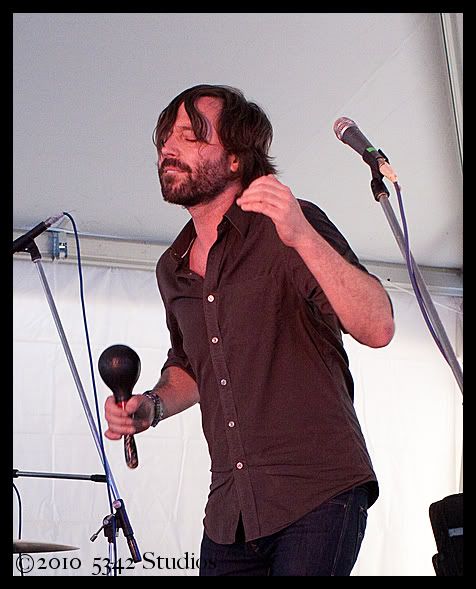 Matt Pond at SxSW 2010 in Austin
all photos by 5342 Studios
Matt Pond PA
is one of those bands that I have a hard time describing. They have a mid-tempo pop sensibility while delivering elegant lyrics. There is a subtle orchestration with strings making a frequent appearance alongside the drums and electric guitar. Although very light at times, there is a barely restrained intensity to much of the music that just sucks me in.
I first came to love these folks after discovering them on Pandora about the same time they released FREEP, an excellent free EP that was available for about a year starting late 2008. (It is now available for purchase under the name
Auri Sacra Fames
). If you are not familiar with Matt Pond PA,
Several Arrows Later
,
Last Light
and the
Winter Songs EP
are highly recommended for your review.
Originally formed as a chamber pop quintet in Philadelphia, Matt Pond is actually the only remaining original member of the band. A self-described "fast food phoenix", Matt Pond PA has had many shifting members. In fact, the PA in the name is an homage to the state where they first came together, even though he now lives in Brooklyn. There's a very interesting
interview
that's worth a read if you want to hear some thoughts from the heart of the artist.
RSL Streaming Photo Album:
MATT POND PA at SxSW Music Festival
March 19, 2010 - Austin, Texas
The Dark Leaves
is Matt Pond PA's
latest LP
and it is a moodier cousin to Several Arrows Later and Last Light. It feels immediately familiar, even though it has a very different vibe. It is an excellent addition to the catalogue.
You can catch them at Great Scott this Saturday the 5th and I highly recommend this show. We will be there.
- Sean / 5342 Studios