Game Trailers better than Movies
Go Ahead and Geek Out

Game Trailer Looks Sick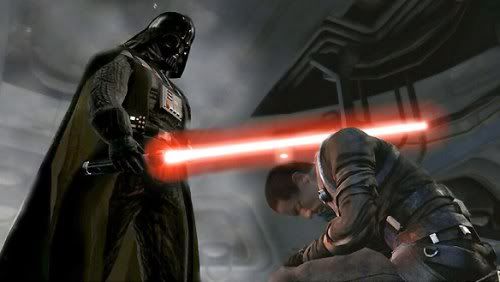 The First Episode saw Vader take on a new apprentice
SURPASSING FILMS -
As you might expect, I don't have a hell of a lot of time to play games on top of writing and editing this website and working my 9-5. But I have played
The Force Unleashed
a handful of times. (I don't even own a console.) And while I stink miserably, some of the sting comes out of the incredible graphics - and great story. Well, here's the trailer for part two of the game. And, it looks unbelievable - like better than most of the crappy movie previews we get shoved down our throats every time you turn on the tv.
The events here in the game unfold in the space between Star Wars III and IV - so this thing works for you sticklers, as well.
The trailer was released yesterday.
Watch and be amazed. I'm probably going to sink some cash into an X-Box 360 soon. Yeah, yeah... I know. It's 2010... But I have managed to avoid owning an ipod and this little kick ass website seems to be doing just fine.

trailer released Sat 6/12