First Aid Kit makes their Mark
On Further Review
by
Emma Dessau
Live at the Middle East - 6/14/2010
sister act:

First Aid Kit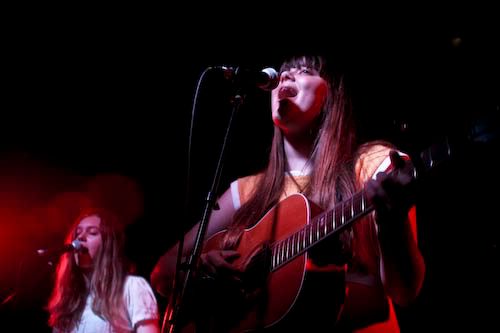 Emma Dessau photograph
As I sat waiting for
First Aid Kit
(an act that
Paste magazine
calls the "The Best of What's Next") to take the stage at the Middle East, sipping my first legally obtained all-American beer (from a bar, at least), I noticed two girls at the table beside me. They looked young, but not just the normal kind of young I would describe the run of the mill American teenager: Something about their angelic, velvet-eyed faces struck me as foreign. The place began to fill up, as per usual, but not with the normal mix I expect from the Middle East. No, this time, floods of teenage girls poured in. Needless to say, my first beer from a Boston bar felt a lot less badass than I'd hoped.
Those two velvet-eyed girls, from earlier on would take the stage. Klara, the older of the Swedish Södenberg sisters, also known as First Aid Kit, introduced the duo. Previously I only knew of their incredible version of Fleet Foxes' "Tiger Mountain Peasant Song," a cover that rivals the beauty of the original. However, Klara and Johanna Sodenberg were increasingly mesmerizing with each tune. I don't tend to pick artists with the purest and benevolent of lyrics, but First Aid Kit delivers acoustic stylings as alluring as early Joan Baez singles.
Their show at the Middle East was the penultimate stop on their first American tour for their first full-length album, "
The Big Black and the Blue
." Towards the end of the set, they left their mics and instruments behind and walked to the edge of the stage to serenade the audience unplugged. Their harmonies carried across the room and a girl in the corner broke down crying. Though truly almost too cute for my stomach to handle, I was amazed.
RSL Streaming Photo Album
First Aid Kit in Cambridge, MA