Titus Andronicus - The Monitor
On Further Review
...
by Nick Parker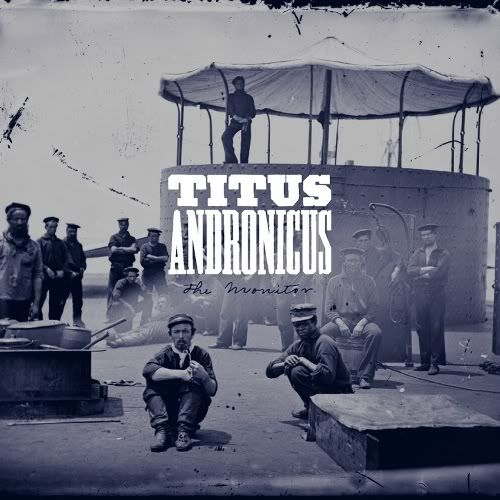 I don't want to overstate this, but
there is something

a little self destructive

about Titus Andronicus'
The Monitor
.
The album is not short of great tracks.
It's not lacking in a voice that's it's own either. (The band has already lead us into a really beguiling world of working-class lives writ-large... ) Many of the songs on
The Monitor
move very subtly between contradictions. There is, for example, a lot of clever word-play that smacks of real thinkers behind the scenes. Most of the songs though, seem born of a bleary-eyed state of keg-stands, basement parties, and cigarettes chain-smoked veraciously, so you wonder how they can get their heads straight enough to pull the tracks together.
The answer is that the show is a persona,
of course
(One give-away:
No-one can be that obsessed with New Jersey
!). But Titus are nurturing their characters all the time and it is a fascinating world that they are propagating: Working-class kids without much hope, but with each other; Americans through and through, appropriating all the right-wing shit, and letting the rest of us have some pride in the country. This surely is why the songs on "The Monitor" are dressed in Lincoln speeches.
Then again, I could be wrong...
Like the massive reverb swells that overwhelmed Titus's first album,
The Airing of Grievances
,
The Monitor
is in many ways obscure – even
obscured
. The obfuscation often becomes frustrating. The band didn't need to hide their great tunes behind cloudy effects the first time around, and I would dare to say they don't need the gimmicks of political rhetoric to block our access to their own statements about living their lives in these times. That's the self-destructive thing I worry about with this band. Perhaps their stories, which deserve to be told, will be lost in all the confusion.