The Heavy Metal Report: ACARO
words & media by
Shawn SixX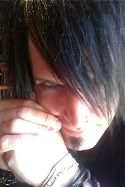 Who is ACARO?
The Boston metal band that seems to be popping up all over the place with a vengeance these days. Last weekend ACARO proved to be a heavy musical force to be reckoned with. I caught up with the band to see who they are and what they are doing to garner all this Buzz.
Still sore from the blistering show the night before at Ralph's Diner in Worcester, I decided to check in with ACARO who were set to take the stage at Harper's Ferry in Allston. These guys seem to be burning up live venues and audiences in the Boston area including the 12th annual New England Metal and Hardcore Festival last month. This particular weekend was no different!
photos by Shawn SixX
Frontman
Chris Harrell
revved up the vocal power to work the Harper's crowd into a circle of pure metal energy. With beads of sweat and a bulging vein on his shaved head, Harrell paced the stage like a caged animal trying to get out. The crowd's eyes were focused, their minds strained as they attempted to mouth each strained syllable Harrell threw out at them.
As I looked to the sides of the stage I heard the scream of guitars from
Felipe Roa
and
Chris LeBlanc
- playing as if their life depended on it. If Dimebag Darrell and Ronnie James Dio were still alive, they most certainly would have approved! I could feel the hair on my arm vibrate as bassist
Kevin Smith
and drummer
Jason Fitzgerald
held together a low end that was just ungodly! These guys bring every bit of the metal genre to show - and they play with passion. They play to play! ACARO is completely genuine.
ACARO isn't signed as of yet but are producing their first CD now and have their sights on just letting things "happen". While looking to get signed, they are fine for now just writing and performing kick ass Metal. If you want to see a Boston Metal band that can bring it, look no further.