Vivian Darkbloom 2.0
One of Boston's Coolest Bands
Live Dates This month, new website

Boston dates:
April 7
at
Royale
with
Airborne Toxic Event
(private)
April 14
at the
Middle East
with
See Green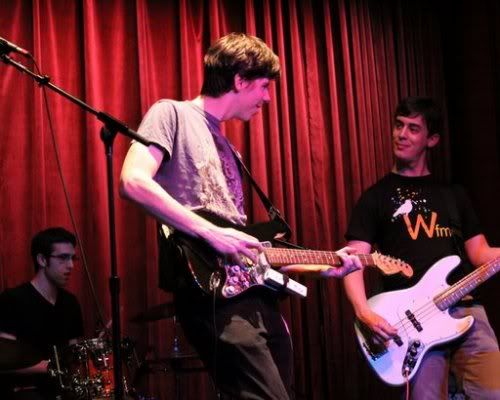 Vivian Darkbloom
at the Red Room of Boston's Cafe 939 - 5/29/09
photo by 5342 Studios
NEW ENGLAND MUSIC NEWS -
From what we hear, things are really heating up this year for Boston's
Vivian Darkbloom
. The band, who are named for the celebrated pseudonym of the late novelist Vladimir Nabokov, has been busy working on new material with the hopes of releasing their full-length debut soon. A new-look Vivian Darkbloom web page was launched just this week.

GEEKS OF THE WORLD UNITE! -
Vivian Darkbloom grew more popular throughout the year last year, earning airplay on local and college stations. They belt on the platform with the geek stardom (and blog love) thanks to guitarist
Rob Morris
' guitar play. Morris's time spent working/tinkering with guitars at the
MIT Media Lab
- and that work has definitely influenced the band's live aesthetic, and it has led to their must-see secret weapon: the Wii Guitar. The customized guitar allows Morris to alter the music produced by the guitar based on its orientation. In other words, Boston's Rob Morris is doing something new - and that's pretty cool.
Since that time, Morris has improved the instrument and has only gotten more proficient at playing it. Coverage of the Wii Guitar spanned the planet, and was featured in The Boston Globe, USAToday.com, Wired.com, Engadget.com, and Gizmodo.com (among others). I will also mention that we brought him to your attention first. All this success, while rudimentary noise, has helped keep Morris and founding band mate
Brian Skerratt

stay on track and move ahead.