Romance is Boring
On Further Review
...
by Nick Parker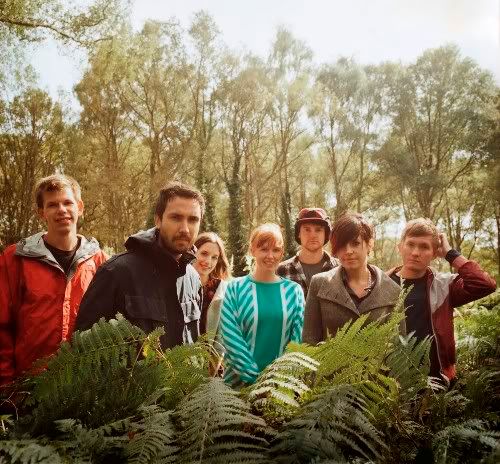 Los Campesinos!
The New Album from Los Campesinos -
There have been lots of albums out recently from established acts trying to balance pushing forward with their sound but also retaining the quality of their past releases, with varying degrees of success. None of them have managed to keep this tricky middle ground with more skill than
Los Campesinos
. "Romance is Boring" is an album of (at least) two sides, and both of them are compelling.
I have written about this band before.
When I did, I was wowed by the cheery energy and humor of their youth. They were witty and intelligent, the elements of a gang of seven friends playing together on stage and off. I could see in them a connection to a new drive to put the intelligence back into British indie music, along with other excellent bands like
Maximo Park
and
Lightspeed Champion
. They were, in short, the kind of band that moved past the bombast of muscular rock, to give us all the energy and add to it the intellect that gives songs depth and long-lasting appeal.
ROMANCE IS BORING
Tracklisting:

1

In Medias Res


2

There Are Listed Buildings


3

Romance Is Boring


4

We've Got Your Back

...



(Documented Minor Emotional Breakdown #2)



5

Plan A


6

200-102


7

Straight In at 101


8

Who Fell Asleep In


9

I Warned You: Do Not Make an Enemy of Me


10

Heart Swells / 100-1


11

I Just Sighed. I Just Sighed, Just So You Know


12

A Heat Rash in the Shape of the Show Me State;

...



Or, Letters From Me to Charlotte



13

The Sea Is a Good Place of Think of the Future


14

This Is a Flag. There Is No Wind


15

Coda: A Burn Scar in the Shape of the Sooner State
The Los Campesinos of
Romance is Boring
are a band with all the droll gags and word play, but something novel too, which makes them addictive on a whole new level. The best examples are in songs like "Who Fell Asleep In" and "The Sea is a Good Place to Think of the Future." Both show singer Gareth to be a real force to be reckoned with. Emotionally charged lyrics about troubled relationships and desperate friends are a turn you wouldn't normally expect from this band, or this vocalist, but Gareth sings them with huge conviction. They really are all grown up, at least in the ways it counts.
What remains young about Los Campesinos is their veracious desire to throw themselves into music. It's an admirable trait that I hope they never grow out of. They are playing at the Paradise on 24th April, and I will be there, laughing with them at times, and silent when they move me.
Romance is Boring was recorded and mixed between March and June of 2009, in Seattle, Connecticut and Monmouthsire, with producer John Goodmanson. It features guest appearances from Jamie Stewart, Zac Pennington and Jherek Bischoff. The band is touring in support right now.
April 19 - Burlington, VT

Higher Ground Showcase Lounge

All Ages Show
Apr 20 - Toronto, Ont

Phoenix Theatre

All Ages Show
Apr 21 - Hoboken, NJ

Maxwell's

All Ages Show
Apr 21 - NY, NY

Irving Plaza

All Ages Show
Apr 24 - Boston, MA

The Paradise

18+ Show
Apr 27 - Washingon, DC

9:30 Club

All Ages Show
Apr 28 - Covington, KY

Mad Hatter Club

All Ages Show
Apr 29 - Madison, WI

Majestic Theatre

All Ages Show
Apr 30 - Chicago, IL

Cabaret Metro

All Ages Show
May 1 - Minneapolis, MN

First Avenue

All Ages Show
May 4 - Seattle, WA

Showbox Theatre

All Ages Show
May 5 - Portland, OR

Hawthorne Theatre

All Ages Show
May 7 - San Francisco, CA

Hawthorne Theatre

All Ages Show
May 8 - Los Angeles, CA

El Rey Theatre

All Ages Show
May 10 - Pomona, CA

The Glass House

All Ages Show
May 11 - San Diego, CA

San Diego Woman's Club

All Ages Show