The Rhyme of John Shade
Someone You Really Should Know
New England's
John Shade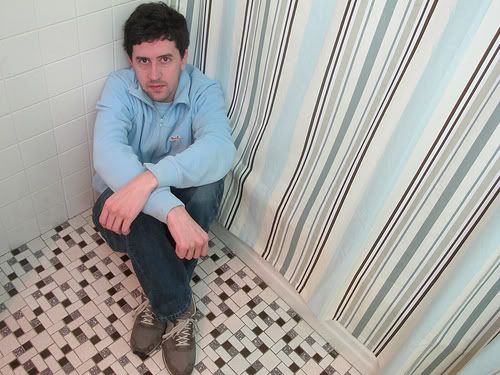 HIGHLY RECOMMENDED NEW ALBUM -
I fully anticipated liking whatever music project came next from
John Shade
- the stage name for Dave Godowsky [recommended
Boston Globe story
.] But I couldn't believe my ears listening to his new record;
All You Love is Need
. We are still very early in the year, but this is definitely one of the better albums I have heard! (ed's note: this new release is "pay-what-you-want" - details using the link below.)
John Shade's cleverly titled
All You Love is Need
is a witty cover on an album that serves to showcase the singer-songwriter's impressive range. Here (both musically and lyrically) Shade plays puppeteer, the songs only held back on a lease of their master's ambitions. The upbeat numbers and vibrant, energetic tales. The serious, reflective songs are emotive but without a heavy hand. Shade appears to made to be a conscious effort to pay his respect to the ghosts of music-past.
Shade's vocal inflections work very well with his timing style. His voice can rumble like running rain down a tin gutter - and can still rise effortlessly climbing like a candle's flame or the upturned wing of a hawk. You can better believe this record will be in heavy rotation.

If you are around Boston, you can find out about John Shade this week for yourself...
John Shade w/ the Neave String Quartet
weds 4/14/10
The Lizard Lounge
Cambridge, MA
Special music guests:
Mark Erelli on guitar
Sean Greenhalgh on drums (
Clap Your Hands Say Yeah
)
Zack Hickman on bass (
Josh Ritter band
)