Radio Moscow
Kick Ass Psychedelic Rock
!
One More Great Band You Should Know
WORDS TO LIVE BY -
"
...and jam on through to the end muthafuka!!
" I've used that term to mock countless bands who seemed to write half a song, but then have no idea what to do. This will be the first time I use it as a heartfelt compliment.
Radio Moscow
is a badass hard-rock blues band that I expect to blow the doors clean off Great Scott on Thursday
WHO THEY BE -
Radio Moscow is headed up by Parker Griggs who in the studio played both guitar and drums for their eponymous first release, (produced by Dan Auerbach of The Black Keys) as well as their newest album "Brain Cycles". The rest of the trio is made up of bass player Zach Anderson and their newest member, Paul Merrone, who is the group's current drummer.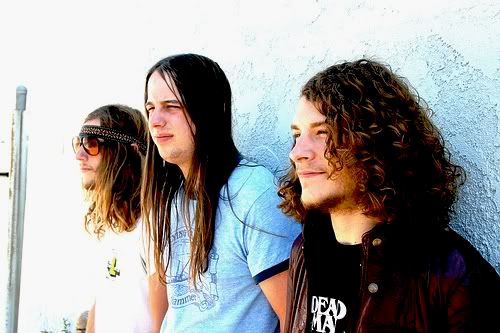 One to Watch in 2010
When I first listened to Radio Moscow
, I didn't realize that both guitar and drums were played by the same person. (I'm still not sure if I should be surprised or not.) When you listen to them, the interplay between the drums and guitar is one of the things that really sticks out. But, is it more impressive that they got that sound recording them separately, I don't know. It simply kicks ass.
Radio Moscow
upcoming live dates
Apr 15 - Allston, MA
Great Scott
Apr 16 - Rochester, NY
The Bug Jar
Apr 17 - Columbus, OH
The Summit
Apr 18 - Cleveland, OH
Beachland Ballroom
Apr 19 - Newport, KY
Southgate House
Apr 20 - Chicago, IL
The Double Door
Apr 21 - Minneapolis, MN
Turf Club
Apr 22 - Ames, IA
DG's Tap House
Apr 23 - Iowa City, IA
The Yacht Club
Apr 26 - Lawrence, KS
Replay Lounge
Apr 27 - Denver, CO
Larimer Lounge
Apr 28 - Salt Lake City, UT
Club Vegas
Apr 30- Seattle, WA
Comet Tavern
May 1 - Portland, OR
East End Tavern
May 2 - Eugene, OR
The Muse Lounge