Lord T & Eloise
Photographic Evidence:
by

5342 Studios
Barbarella
Austin, TX - 3/18/10

"The most fun set I caught this year in Austin (SxSW)"
- Ryan Spaulding, rslblog.com
all photos by 5342 Studios
FOUR STAR LIVE SHOW
!
At first you might make the quick assumption that this could just be another wild music novelty act. And to be fair it might just be a little of that, but it would be wrong to sell these very talented hip hop artists short. Give it a minute and it soon becomes clear how tight these guys are.
Lord T & Eloise

are one sick stage act.
We caught them on Day 2 of this year's SxSW Music Festival in Austin, TX - and as it turned out we had already seen the most unadulterated fun, spontaneous sets of the whole week. It's hard to imagine anyone matching their intensity.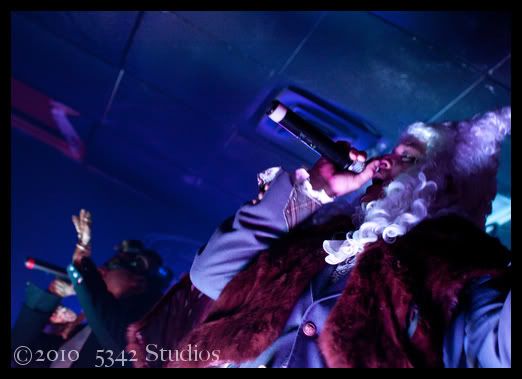 MEET LORD T & ELOISE
- Who are these guys?
Lord Treadwell
, we are meant to believe, is a wig-bedecked 18th Century British Lord.
Eloise
is the wealthy heir to a vast estate. His skin is gold. Check these guys out!
RSL Streaming Photo Album
Lord T & Eloise - SxSW performance 3-18-10
Apr 10 - Knoxville, TN
Barley's
Apr 15 - Memphis, TN
Peabody Hotel Rooftop
Apr 17 - Nashville, TN
The Mercy Lounge
Apr 21 - Starkville, MI
State Theatre
Apr 23 - Jackson, MI
Martin's
Apr 24 - Little Rock, AK
The Rev Room