Life is Sweet! Nice to Meet You
On Further Review
by

Nick Parker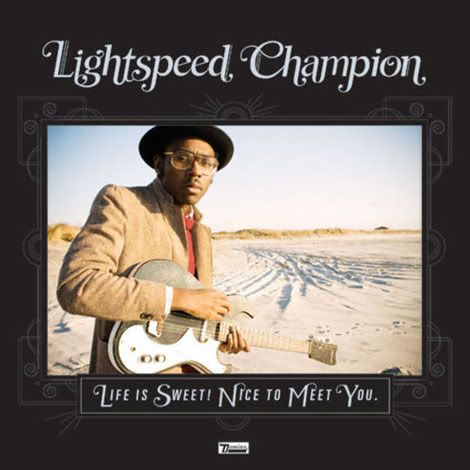 Lightspeed Champion
(the name for Dev Hynes's current musical persona), produced one of the best albums of 2008. Will he repeat that feat with his second release? It's really hard to say. Let me back up a little and explain…
When Dev was last in Boston in 2008
, playing at
Great Scott
, he told me that he was quite literally living on the road, and had no home anywhere in the interim – when he went back to London, he was forced to sleep on friends' sofas. I understand he's now put down some roots, back here in the country of his birth (he's originally from Houston, TX). Now though, he lives in New York, where he recorded "Life is Sweet!"
Despite all this distance from the London music scene that he came out of though,
this album, like the last, is about as English a project as I can imagine
. I don't mean that it's better or worse than music from elsewhere, but that there is something almost uniquely eccentric about Dev's sound, which seems to scream Southern English indie.
You can never really be sure if the strange juxtapositions of instrumentation that flit in and out of these songs are serious or tongue-in-cheek. The video for "
Marlene
" is a good example of the generally bizarre direction that Dev takes with songs.
What's most remarkable about this background though, is that the songs that end up on "Life is Sweet!" while they have clearly come from a very 'creative' and experimental place, are still basically very catchy and addictive tunes. Songs like "
Middle of the Dark
" and "
Sweetheart
" are built from really complicated mixes of instruments, but they are completely digestible. This means that you can enjoy listening to Dev's music quickly, but keep hearing more and more in it as you spend time listening. You have to admit that that's a pretty good proposition for any new music purchase.
Judging this music though, is difficult. There is very little to compare it to, for one thing. All it makes me think of is Dev himself: charming, funny, poignant, and precocious in turns, but on a planet all his own.