Do Not Forsake Me Oh My Darling
Boston's Real Dynamic Duo
Artists You Need to Know in 2010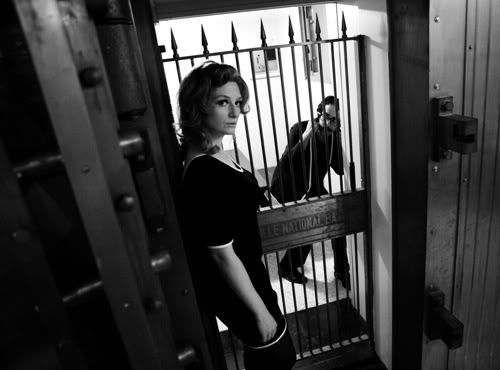 photos: Kelly Davidson
Minimalist Rock is Art -
Today we delve into
Do Not Forsake Me Oh My Darling
- a Boston duo inspired by the '60s cult spy-fi TV series
The Prisoner
.
Sophia Cacciola
, drums & vocals (formerly of Blitzkriegbliss!) has paired with Michael Epstein bass (front man of underground indie pop faves
The Motion Sick
) flex their cerebral muscle on this new project: the couple (who are married in real life) are releasing albums as "episodes" on their website - mirroring the spy v. spy television show.
Let's hope all this excitement doesn't get somebody killed.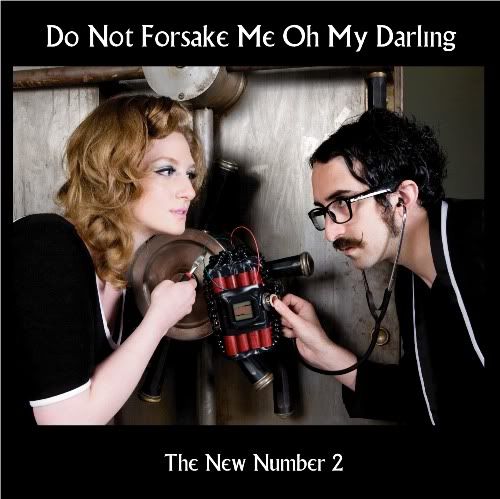 The duo plod along - smoothly at first. But soon, as the music heads to midnight, Cacciola's sultry voice changes takes a turn - and she howls from behind the drums. Epstein's guitar/bass rig is fully taxed - the sound is sometimes visceral and aggressive; there is no doubt,
it is completely alive.
directed by Theodore Cormey


Thinking Man's Art -
This project is just ridiculously cool. The Prisoner already has a cult audience and many of those learning about Do Not Forsake Me are following the band's exploits online. - Do yourself a favor and download the
self released
episodes. The dynamic duo are winning loyal fans with their sound and the mythos of recreating the television past... One spy story at a time. This is definitely
One to Watch in 2010
.
SPECIAL ENGAGEMENT
live this week in Boston!
Do Not Forsake Me Oh My Darling
will play
Great Scott
in Allston, MA
Thursday 4/29/10

Do Not Forsake Me Oh My Darling