Ryan Adams & The Cardinals
Moments Frozen in Time
Photographic History Unfolds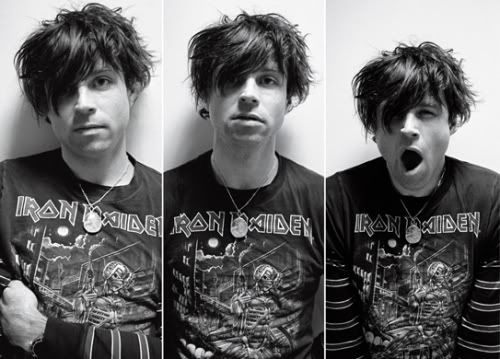 Ryan Adams by Neal

Casal




giddy, Adams, is with Oasis below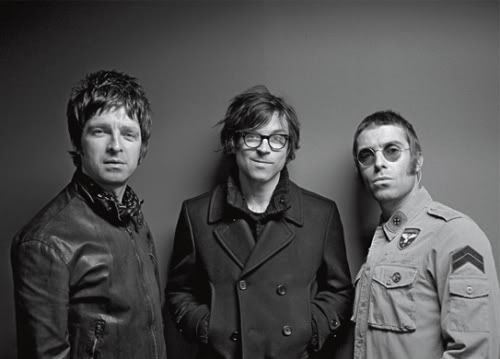 Ryan Adams and the Cardinals:
A View of Other Windows
- The photo book about to unleashed, reveals an unprecedented, intimate look at Ryan Adams and his band the Cardinals. It takes place through the evocative photography of lead guitarist, Neal
Casal
. An intensely personal collection of 200 photographs,
Casal
has captured the exhilaration of the stage and studio while sometimes exposing the solitary aspects of the creative process and life on the road. With an introduction by Ryan Adams and an afterword by legendary musician Phil
Lesh
, this collection will be revered by fans and is the official documentation of the beloved band.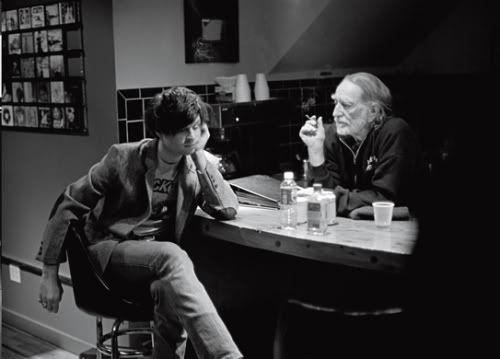 Adams & Nelson by Neal

Casal
BUY THE BOOK

-
Ryan Adams writes the foreword for the new book (from Abrams). For many fans, this may the first articulated message they have received from the singer-songwriter since his
cautious, emotionally charged retirement was announced last January
. Things have changed. Adams has gone on to get married. All have suffered recently with the death of beloved Cardinals bassist
Chris

Feinstein
- making this photographic reunion all the more dramatic and
poignant
. There's a healing process going on here: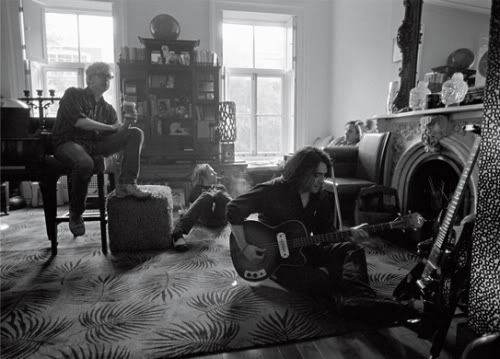 Casal

captures the late Chris

Feinstein

in this 2008 photo
160 Pages that Impact -
The
Casal
book is a silent storyteller, but the band's emotional metal slag here is tenable. It's hard to not embrace these pages and feel that we are a fly on the wall in a key moment in rock history. This is a must-have book for even the casual Ryan Adams & The Cardinals fan and a great look at the transitory time in the lives of an amazing band
Excerpt of the Foreword
by Ryan Adams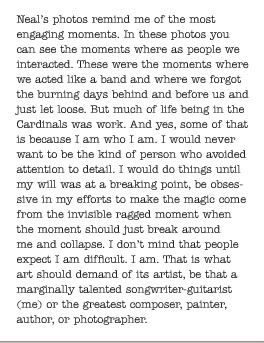 ed.'s note:
It was a photograph of Ryan Adams that brought me into the fantastic world of Neal
Casal
- who I attribute as much of the spirit & execution on RA+C music. (Neal would never agree, but it's pretty clear to me anyway.) Not to take anything away from Ryan (who has retired but still toys with music a bit) but I have come to really appreciate
Casal
for how precise his music is, what it elicits from listeners, and the fact that the music he helped create assisted me in finding my own musical compass.
Neal Casal has become a bit of a pen pal
(
writing in from New Zealand most recently
.) We find him now on his way to the
SxSW
Music Festival to play dates this week with
Gin

Wigmore
.) Casal is responsible for his own
incredible 2009 Solo Album, "

Roots + Wings

"
which made our
2009 Best Albums List
.