Quasi's American Gong
New Music this Week
!
by
Nick Parker
American Gong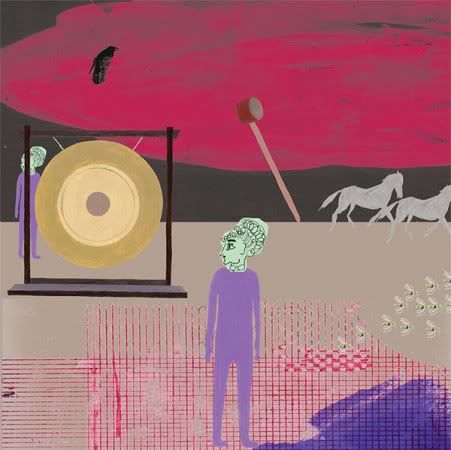 Quasi's new album
is out Tuesday 2/23 on
Kill Rock Stars
Nailing Down A Career -
For reasons I can't quite explain, I have found communicating what's so great about
Portland's

Quasi
to be a difficult task. Lots of friends who usually share my taste in music fall silent when I start to say how I came across Quasi playing support for Sebadoh in London a decade ago, and they immediately offset a thousand crappy support acts I had seen up to that point.
My friends look out of the window with indifference when I say I saw them at Reading Festival a couple of years later, and they won over an apathetic crowd in ten minutes as drummer
Janet Weiss
tried to musically lift her bandmate
Sam Coomes
' spirits after his Rhodes died on stage. My friends begin to roll their eyes as I sputter and drool over the huge wall of sounds that one massively overdriven keyboard played by Coomes, backed up by one truly creative drummer in Weiss, can hit you with. All this seems to be in vain…
The New Quasi -
Now they are a new band though, no longer a two-piece, adding the Jicks'
Joanna Bolme
. Perhaps this will change their whole direction, and make them a little less musically eccentric? (I am concerned only for my friends' sake.)
No luck for my friends. I'm pleased to report that Quasi are still that very unusual thing: a band that sounds unlike most of the rest. As well as uncommonly good song construction, and abnormal tone, they have Coomes' vocals, which are suffused with an emotional commitment that is itself rare.
"
Black Dogs and Bubbles
" is really the album's high-point. It's not perhaps as high as some of the best, past material by the band (like almost anything from 1998's Featuring Birds), but it shows the band can still sound uniquely live and energetic. It also demonstrates that, when Coomes' switches from keys to guitar, Bolme's bass can offer that missing rumble which brings the band together.
I'm glad Quasi have stayed true to their sound, and I suppose my friends will just have to get up to speed with Quasi's excellence, or miss out.
March 9
- Arcata, CA - The Depot

March 10
- San Francisco, CA - The Independent

March 11
- Visalia, CA - The Cellar Door

March 12
- Los Angeles, CA - Spaceland

March 13
- Costa Mesa, CA - Detroit Bar

March 14
- San Diego, CA - Casbah

March 15
- Tucson, AZ - Plush

March 17
- Denton, TX - Hailey's

March 21
- Norman, OK - The Opolis

March 22
- Kansas City, MO - Record Bar

March 23
- Denver, CO - Larimer Lounge

March 25
- Salt Lake City, UT - Urban Lounge

March 26
- Boise, ID - Neurolux

Marc 27
-- Portland, OR - Doug Fir

April 15
- St Paul, MN - The Turf Club

April 16
- Madison, WI - The Annex

April 17
- Detroit, MI - Magic Stick

April 18
- Toronto, ON - Horseshoe Tavern

April 19
- Montreal, QC - Il Motore


April 20

- Cambridge, MA - Middle East


April 22

- New York, NY - Bowery Ballroom


April 23

- Philadelphia, PA - Johnny Brenda's


April 24

- Washington, DC - The Black Cat


April 26

- Carrboro, NC - Cat's Cradle


April 27

- Atlanta, GA - 529


April 28

- Birmingham, AL - The Bottletree


April 29

- Nashville, TN - Mercy Lounge


April 30

- Newport, KY - The Southgate House


May 1

- Chicago, IL - Lincoln Hall