Boston Live Pick of the Week
Out On the Town Thursday
3 Acts That'll Get It Done for You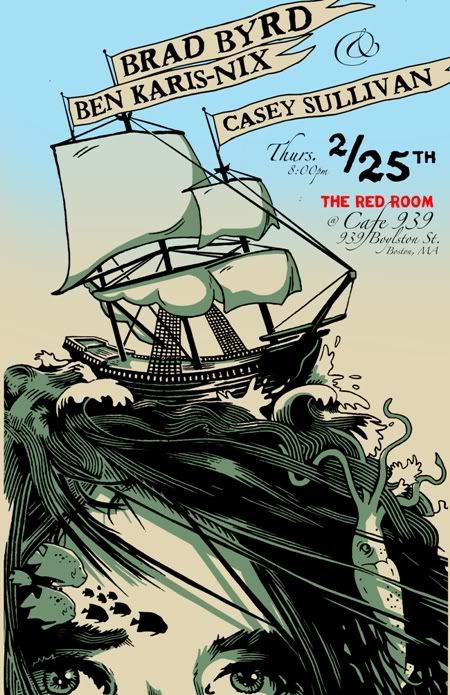 At
The Red Room at Cafe 939
in Boston Thursday night
ABOUT OUR SELECTION -
We like the red-hot and well known stuff as much as the next guy (actually, probably more) but we are abundantly aware that what lies beneath the surface of popular trendy music and (before that, secret "hipster" picks) is a tide of emerging bands on the rise. We feel an inspired sense of responsibility to provide opportune moments for these kids as well. (And you know what? Sometimes these are the best shows out there!) Every so often we like to steer our regional readers to attend these sorts of shows that might otherwise fall beneath their gaze. Behold, here is one such event.
And, it's happening tomorrow night!
Cafe 939
939 Boylston Street Boston, MA 02215
Thursday 2/25/10 - 8pm - $10
An All-Ages Event


no minimum age to attend!
BRAD BYRD -
Since singer/songwriter Brad Byrd released his debut album The Ever Changing Picture in 2003 and his EP Release Me in 2007, a number of his songs have been featured on over 20 television shows, independent films, and national ad campaigns. The single "Never Came Back" topped the singer/songwriter charts on Artistdirect.com as the number 1 downloaded song, ahead of artists such as Jewel, Jason Mraz, and Damien Rice.
BEN KARIS-NIX -
Ben performs with an ensemble of stringed instruments backed by beats, blips, and spacey synths –Featured on CW show "One Tree Hill," MTV's "Road Rules" and "Real World, "NPR's "Weekend Edition," and MySpace Compilation Vol. 1 Ben has toured or shared the stage with Elliot Smith, Hello Goodbye, Coheed and Cambria, the Roots, They Might Be Giants.
CASEY SULLIVAN -
Casey may be only 18 years-old, but she has the soul and the sounds of much more accomplished folk artist. Sullivan is currently working on her first full-length album – she's been heavily influenced by songwriters Regina Spektor, Conor Oberst, and Bob Dylan.