Editors announce Winter North American tour dates
New American Live Dates Announced
!
One of our

favorite

live acts heads our way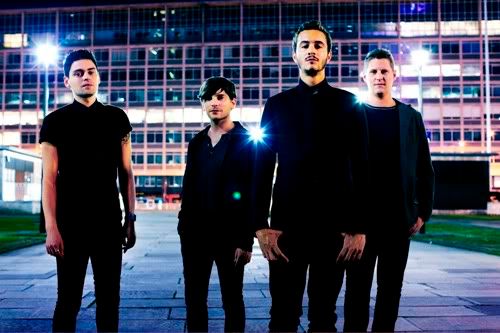 Editors
Having seen Editors twice and having twice faced the reality of how remarkable their live show is, I was encouraged yesterday to hear the long-awaited news that the UK four-piece will be headed to The States soon. This isn't a shocking bit of news, even for a band who hasn't crossed the pond for performances in two long years, as the band has a new album of material [
rsl album post
] to share with fans.
I have a lot of respect for this band. It's hard to argue with the fact that they were staking a flag in what was indie/alternative mainstream in 2007 and 2008 but pretty much disappeared from the horizon for more than a full year following their last world tour. During that time the band evidently evolved their sound, worked through some new songs and drafted a plan for their future. Editors did the best thing for their fans - they stayed true to their ethos but they reeled in their pop sound just a bit.
The results are clear in the band's favor with
In This Light and On This Evening
- it works. While some may run opposed to what may appear to be a reversal of direction and sound, from 2007's Editors breakthrough
An End Has a Start
[
RSL Best of 2007
], we find that the best of the band shines through here. It's a rejuvenated band and a string of powerful new songs. This band's a winner - catch them on tour!
Feb 5 - Seattle, WA


Showbox at the Market



Feb 6 - Vancouver, BC


Commodore Ballroom



Feb 8 - San Francisco, CA


The Warfield Theatre



Feb 9 - San Diego, CA


House of Blues



Feb 11 - Los Angeles, CA


The Wiltern



Feb 13 - Denver, CO


Ogden Theatre



Feb 15 - Chicago, IL


Victoria Theatre



Feb 16 -Toronto, ON


Phoenix Concert Theatre



Feb 18 - Boston, MA


House of Blues



Feb 19 - New York, NY


Terminal 5



Feb 20 - Philadelphia, PA


Trocadero



Feb 21 - Washington, DC


9:30 Club