Clap Your Hands Say Yeah - WOXY 2005 radio session
Live And Of Note
CYHSY radio session - 9/21/05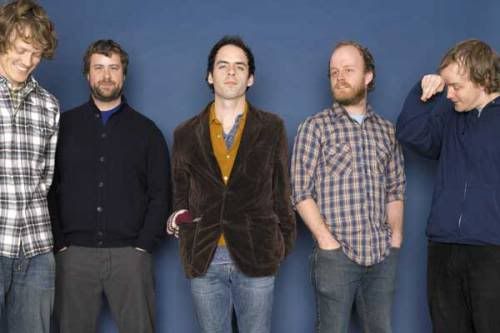 CLAP YOUR HANDS SAY YEAH
One of the most influential bands of the last decade, self-made startups
Clap Your Hands Say
Yeah told a generation of bands that they could self-produce and release a very successful album campaign. Their eponymous was a huge, soaring exploration of sound. And it took the indie world by storm. By mid-2005, their name was all over the place and the band had an invitation to play the
WOXY
studios in front of a small, live audience. The songs were broadcast out into the universe for many thousands to enjoy. Here is that show....
SINCE THAT TIME -
Clap Your Hands Say Yeah went on a pair of
hugely successful
tours in support of their debut. They made fans all over the world. We saw them play twice. As most of you are likely aware, Clap Your Hands got a record deal (predictably) and responded with a middling effort with "Some Loud Thunder" a record that wasn't at all bad - but it just didn't capture the magic of this band's phenomenal debut. Singer
Alec Ounsworth
has released a pair of solo efforts. His latest is called
Flashy Python
. Bandmates went on to form an on-again, off-again Guns N Roses cover band of note called,
Mr. Brownstone
, and then Robbie and Tyler have recently gone on to form a new act called
Uninhabitable Mansions
. We want to check this group out but missed them during their visit to Boston in October.