Tom Thumb's "We Never Die"
A First Look / New Albums of Note:
by

Nick Parker
TOM THUMB - WE NEVER DIE
DATELINE:
MAINE
-
Tom Thumb
was already a favorite here at RSL and a Boston mainstay when I joined the crew here a year ago. I had some catching up to do. On the night I first met Ryan, he led me over to
Great Scott
to see Andy Arch (a resident of the state of Main and the man behind the Tom Thumb project) play songs from his exception 2008 album;
The Taxidermist
." It didn't take long at all to be thoroughly convinced.
So when I listened to Arch's new CD, "
We Never Die
," I did so with some a bit of trepidation... Could Arch perform the creative acrobatics in 2009 that he performed on the first album? I sat down and listened...
WE NEVER DIE -
the new record comes to life with the sound of a lone mandolin... This instrument makes a very 'human' sound, unpolished to the point where it belies Arch's mastery of his instrument(s). I'm pleased to say that this slight introduction to opening track "Olivia" sets the tone for a very intimate journey that is at least as moving and euphoric in turns as anything on "The Taxidermist."
Arch's lyrics are intricate, leaping from compacted image to image, sometimes amusing, often touching, and never prosaic. Though there is poignancy, my overriding emotional response is simply to revel in Arch's complex play between the celebratory and sad.
EXPECTATIONS MET -
All this joyous music builds, like any really great album, to a delicate crescendo in "Acid Rain." Playing this song, among several from the last album, at a show in Boston some months ago, this was immediately a stand out. Here on the CD it makes clear that Arch knows not just how to write a lyric, or just how to write a song, but the dying art of how to write an album. "
Acid Rain
" caps off a project that seals Tom Thumb's place
among
the best solo artist
s
to come out of Boston in some years.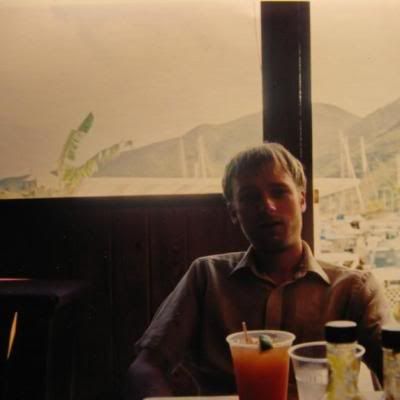 Andy Arch aka Tom Thumb
DYI Collector Edition Albums -
You are lucky this week, because not only can you pick up this great new Tom Thumb album - this guy MAKES his own album art himself. (Each piece is hand-numbered:
http://tomthumbmusic.com/
), but you can also see the start of his fall tour begin, this Friday at
the whitehaus
in Jamaica Plain.
If you live outside Boston, make sure you catch him at one of the following shows across America:
TOUR DATES
10.10.09 - Biddeford, ME
the hfs annex
10.11.09 - Keene, NH
Toadstool Bookshop
10.13.09 - Jamestown, NY
Labyrinth Press Co.
10.16.09 - Brooklyn, NY
Sycamore
10.20.09 - Penland, NC
Penland School of Crafts Coffeehouse
10.21.09 - Chapel Hill, NC
Caffe Driade
10.23.09 - Atlanta, GA
Star Bar
10.24.09 - Athens, GA
2nd Annual Southern Celebration of Life
10.28.09 - Indianapolis, IN
TBA
10.29.09 - Urbana, IL
TBA
10.30.09 - Chicago, IL
TBA
10.31.09 - Lincoln, NE
Clawfoot House
11.2.09 - Denver, CO
TBA
11.5.09 - Boulder, CO
TBA
11.7.09 - Las Vegas, NV
the Cloud Hidden House
11.10.09 - San Luis Obispo, CA
the Clubhouse
11.28.09 - Port Townsend, WA
the Boiler Room
12.5.09 - Madison, WI
the project lounge
12.6.09 - Chicago, IL
the Orphanage
12.10.09 - Rochester, NY
Boulder Coffee Co
12.14.09 - Portsmouth, NH
the Red Door