Tim Williams - Careful Love
New Music this Week
!
Someone You Should Know
TIM WILLIAMS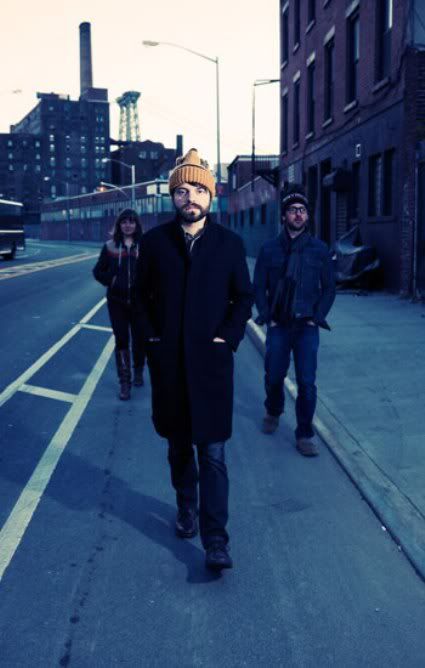 Tim Williams with Misty Boyce & Matt Welsh
Davey Wilson photo
NEW MUSIC -
Tim Williams
is one of those voices that quickly takes up residence in both your heart and your head. It was the songs from Tim's
Merchant Heart

EP
that first drew my attention. His textured songs (just listen!) and his memorable voice took me on a journey that ended up with me contacting the singer and his label back in 2007. I was able to sit in one a pair of intense Tim Williams live sessions here. During one such session, I was able to grab the singer and we sat down to talk about life. (
I wanted to know about his songwriting and Tim wanted to know about what it was like to be a music blogger.
) That conversation and the ones that followed resulted in
one of the first interviews
we ever ran on the website.
In May of last year, just a few short months after I visited with Williams, he underwent intensive open-heart surgery that ended up threatening his very existence - leaving Williams bedridden in recovery throughout much of last year. Once freed from the confines of the hospital, Williams immediately began writing/rehearsing new material. What resulted from those sessions were the songs of
Careful Love
.
This is the best work we have heard from Williams to date, and certainly his most varied... Much of this success has come through Williams' successful work with bandmates
Misty Boyce
and
Matt Welsh who help give the new recordings of a rounder sound. Things stay small, experimental and intimate, at the same time though - which keeps the album really tangible for me. It's a great balance that makes this one of the better albums released in 2009.
Take the up-tempo track "
I Hit Another Wall
" is a perfect example, as Williams explains, "I wrote the song as a reminder of how lucky I was to make it through. It was physically the most painful experience of my life." Everything - includes the names of things have taken on new and more profound meaning.
Careful Love
, the title of the new album, turns out to be an apt one; as Williams has learned to respect life just a little more than he did. During the recording of the songs, Tim met someone and fell in love.
"Oceans
"
from
Careful Love
Tim Williams
, who was already damn good, sounds pretty much unbelievable on three or four of the songs on
Careful Love
, showing a level of professional growth unparalleled by many others in 2009. Just listen to Oceans, one of our favorites from the new album. Here, Williams completely fills the
Ryan Adams
-sized hole in my music-fueled heart left when the
Cardinals frontman retired
. Tim Williams should be in everyone's music collection this year.