Sea Wolf in Boston
Photographic Evidence / On Further Review
by
Sean Hafferty

and

Ryan Spaulding
The Paradise
-in Boston (10/13/09)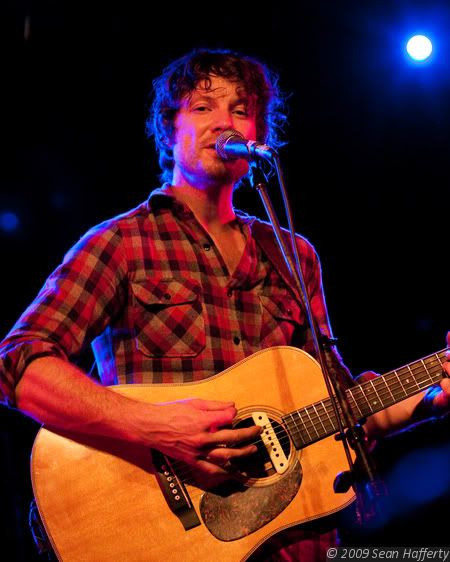 Alex Brown Church at the Paradise last night
Sean Hafferty photograph
ONE OF THE BEST NEW SOUNDS OF 2009 -

Sea Wolf
arrived in Boston last night, touring in support of their just-released sophomore album, "White Water, White Bloom" (Dangerbird Records). I will tell you right now that this is one of the best new albums of 2009. And, happy to report, the live performance of these songs (strongly recreated on stage for the crowd at the Paradise in Boston last night) was a winner.
The set last night underscored the band's reputation for putting on cinematic presentations. (The stage lights set out low, the band took the stage in the dark for album title, "White Water, White Bloom," a track that immediately sinks the listener into the throes of survival. The lights rose and displayed the band making sounds that help advance the tales of vocalist Alex Brown Church. Instrumentally, the band is as strong at times as Explosions in the Sky, Manchester Orchestra, Devotchka, The Photographic, the Decemberists, Wolf Parade and Ghost of the Russian Empire -
stellar acts
we have come to love in their own right for their new releases over the last two years. The circle for Sea Wold is clearly completed as Church begins telling of the outside world. This is right in line with what heard from OC Weekly, on the band; " Both in theme and instrumentation, it's an album with enough range to surprise anyone used to the starker corners of Sea Wolf's debut," mused OC Weekly.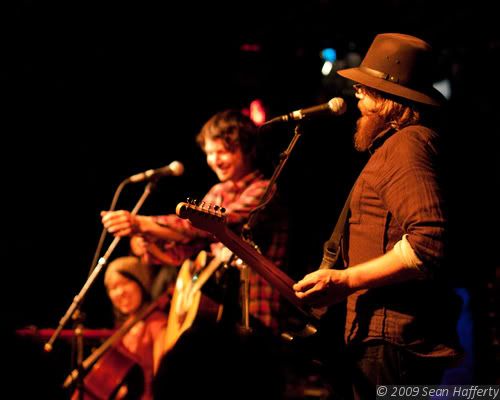 "Wicked Blood
"
from
White Water, White Bloom
Sea Wolf in Boston
10/13/2009 at the Paradise

SET LIST REVEAL:
White Water, White Bloom
Winter Windows
Middle Distance Runner
The Traitor
Dew in the Grass
I Made A Resolution
O Maria!
Black Leaf Falls
Turn the Dirt Over
Wicked Blood
Black Dirt
You're a Wolf (e)

A high-energy show that was characterized by fierce tightness by the band and high-end instrumentation, Sea Wolf's performance was somewhat poorly attended (certainly no more than 200 in attendance) but based on the success we saw last night.... we predict a full-house for Sea Wolf's return. And, we imagine there will a thousand people claiming to have been at this one. If you get the chance, don't miss Sea Wolf. High Entertainment and well executed!