RSL live music event - 4 Bands on Saturday

LIVE at TT the Bears

layout & design by
Tom Gallo
HIGHLY RECOMMENDED -

A R
yan's Smashing Life live show
delivers remarkable music talent, straight from our digital pages to the finest stages in New England. This tradition of music exploration continues on
Saturday, October 24th at TT the Bears
with four outstanding acts that promise to thoroughly entertain, reigniting your passion for exciting new music! What's better, this show - our eighth of 2009, celebrates the accomplishments of our first three years writing about music, arts, and culture. We love you guys, so come on out and party with us in front of some great bands:
The Grownup Noise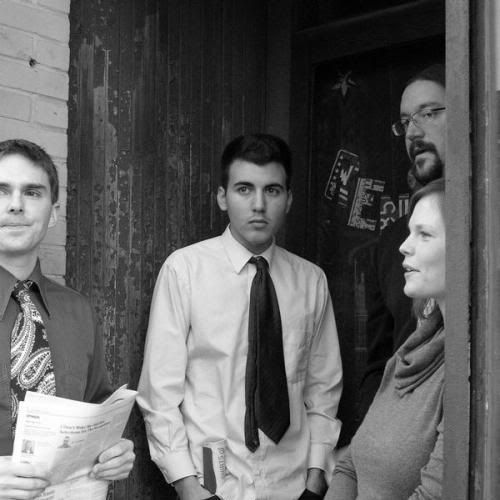 Despite having been exposed to outstanding acts for the last three years, we can't help but get excited when we hear someone great for the first time. I can still remember the strong, winning impression I was left with after seeing Boston's The Grownup Noise. The band's strong dedication to their craft; multi-instrumental beauty underscored by strong fits of rhythm and melody shines up on the stage. I couldn't be happier to expose this band to our growing audience of intelligent music listeners. We think you'll find these guys a perfect fit.

Bonus *: The Grownup Noise promise one new, original song will be unleashed on Saturday night as well as a new cover song. I love it when Bands go out for a live show!

The Blizzard of 78
Expect the Unexpected. Named for an under-appreciated storm for which everyone (it seems) has a story about, the Boston band plays this RSL Anniversary event. What to Expect? 78 have a reputation for charged music performances, and stunning, spiritual moments up on stage. Fall Harvest special: For a very limited time you can buy Book of Lies, the latest album from The Blizzard of 78 for just one dollar. Go ahead, treat yourself - while proving your great sense of taste to friends, the low pricetag will demonstrate your strong sense of fiscal responsibility. This band is a winner.

The Blizzard of '78
Web / Myspace / Buy Book of Lies for $1

Bridges and Powerlines
Quite possibly the Best Pop Band in The Country today, and certainly one of the best on the East Coast, I am delighted that we are able to bring the amazing Bridges and Powerlines to a Boston stage. The NY band has been on our live wish list for the last three years. Fresh off tonight's CMJ Music Festival in NY, Bridges and Powerlines will pile into a van and head north for tomorrow's show in Cambridge. Expect a mighty performance from this exciting live act. (Seriously, I still can't believe I really finally got them! I couldn't be happier.) The video below is from the band's tour last year which took them across the country. They ended up in Austin at SxSW where they were accepted by crowds with open arms. Do Not Miss!
The Thieves, They Are Everywhere
Tik Tok
Continuing an RSL tradition to providing exposure to visiting bands and those just starting out, we have tapped Quincy's Tik Tok to open up our Anniversary program. There's not a whole lot of press material available for Tik Tok, hailing from Quincy, MA - but I will tell you what I can about their music. Powered by a seasoned quartet of local musicians, Tik Tok are a relatively new band with a strong sense of stage theatrics. (Think rock cabaret, mixed with soul... It's a beautiful thing!) We know they will absolutely shine on Saturday night. New exposure to new music is what these events and the blog are all about!