Movers & Shakers
MAKING NOISE in '09
Artists You Should Know
Movers & Shakers
BACK IN TOWN -
Wrapping up a series of East Coast tour dates with
Larcenist
,
Movers & Shakers
are back in Boston. An indie rock fusion band, blending several musical influences (punk, Americana, soul, and of course - rock), the guys released the 12-track Larrabee album earlier this year. It's been in rotation at the RSL compound ever since. We just love the twangy musings of these blue collar, whiskey-soaked philosophers. I think you're about to find them to your liking too..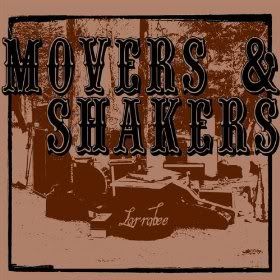 The band [
Dan Wallace (bass) ,
Matt Price (guitar, vox),
Marc Valois (vocals, guitar, vox, organ) , and
Graham Stetler (drums)]
have earned some very favorable comparisons to
Lucero
and
My Morning Jacket
over the last year, and won the hearts of new fans when they opened up for the
Gaslight Anthem
for their CD release. Local attention came in the way of a tap from the
Boston Music Awards
for their nomination of
Movers & Shakers
as the year's Best Americana Act.
BOSTON DATES:
October 15 - Secret Show
(?)
November 6 -
Middle East