Live From Stage :: Lucero at Greenfest
Photographic Evidence / On Further Review
by
Sean Hafferty

and

Ryan Spaulding
Greenfest 2009
- Boston's City Hall Plaza (8/22)

Lucero's Ben Nichols at City Hall Plaza
Photos by Sean Hafferty

LIVE LUCERO -
We got a lot more from
Lucero
at
Greenfest
than even we expected. B
en Nichols
mentioned his current stage sobriety having just arrived in town at showtime... And what we got was a new kind of chemistry. Lucero played an artistic, beautiful set... every bit as good (but in a completely different way) as
the band's booze-fueled performance in Boston this Spring
.
SOME THINGS NEVER CHANGE -
The band was tight as hell. And predictably, Nichols was as playful as ever. Hi impossibly textured voice still the perfect foil for the ranging guitars and measured keys. At Greenfest, Nichols spoke a bit more with the crowd from stage than we are even accustomed to... (Nichols is a joker, smiles wide - he was on fire this night... his jokes were lost on no one.) One thing became even more clear on this occasion: Boston loves its Lucero.
And we were rewarded: Nichols led Lucero down some rarely trod upon grounds. They took chances and played random songs called out by the Boston crowd. It's hard not to appreciate a band who can play in any condition - and still raise the bar.
If you haven't caught Lucero yet on tour
- make every effort to see them soon. Drunk or Sober, Night or Day, what you get is a true classic.

[Lucero returns to town, playing the Middle East Downstairs on Sunday, Oct 18th.
Tickets are on sale now.]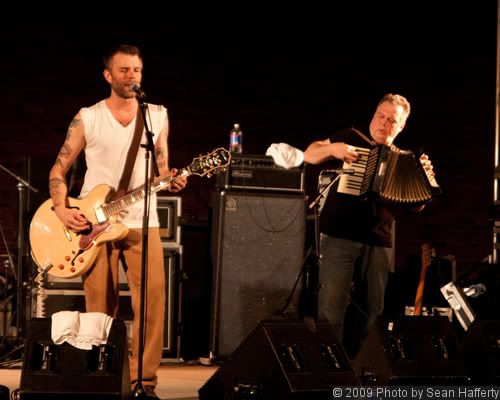 Lucero played songs from both ends of their catalog
RSL Streaming Photo Album
Lucero at Greenfest 2009 (8-22-09)