The End of The Road for PELA
One of the Best calls it Quits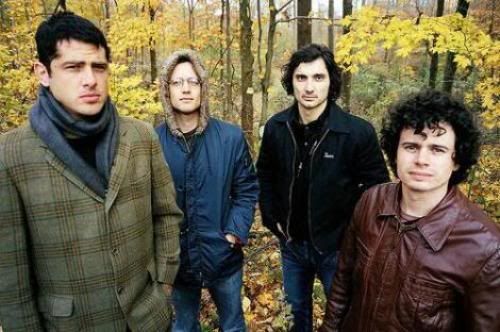 Billy, Eric, Tom and Nate
It is with the heaviest of hearts that I pass along the sad news that one of our favorite bands of the last decade has decided to call it quits.
Billy McCarthy, Eric Sanderson, Tom Zovich and Nate Martinez have played together for years as the New York band
Pela
. I have been lucky enough to catch them 3 times in the last 2 years and did my best at every turn to share their music with our readers.
Pela at TT the Bears 2/27/08
photograph by Hunta
I didn't find 2007's
Anytown Graffiti
until after the calendar had turned over but as soon as I did I realized what I had found - a great American band with empathy, depth, energy and one hell of a sense of what worked before a live audience. One of my favorite nights in Boston to date was spent drinking beers and laughing with these guys - celebrating Nate's birthday at the Middle East. And
what a bill
that was!
Static of the Gods
,
The Motion Sick
and
Shawn Fogel
- seriously a genius night and each of the bands played their hearts out. They were an emotional group of guys - often not able to hold back during shows.
In An Email Sent to Us Tonight:
"
It is with great sadness that we write you today. Pela's collective journey has come to an end. Over the past 2 years we've faced tremendous obstacles. We recorded an album twice, had a falling out/legal battle with our old label, fired 2 managers, had a big record deal fall through, and Billy
had a hand injury followed by a foot injury
.
We've worked tirelessly to get our music out of ourselves and into your ears. We worked endlessly to make the music and our live show the best we could. At the end of the day we had to start dealing with some realizations...
"
"
We will never be able to thank you enough for your support. For those of you that drove and flew hours just to see a show, we thank you. For those of you who wrote us and gave us the opportunity to get to know you, we thank you. For those of you who told us to keep soldiering on, we thank you. Words can't really describe how we're feeling about this difficult decision, but we want you to know that it's the healthiest decision we could make.
Your lovely faces are etched into our memories. Looking at the Crowd Project videos says it all. Please keep in touch, we'll promise to do the same.
"
xoxo
-
Nate, Billy, Tom, and Eric
It was with great confidence that we sometime ago named
Pela
one of the three best live acts in America (along with
Heartless Bastards
and
Delta Spirit
). The "Live Crown" was a mantle they most certainly deserved to wear. I want to thank the guys in this band - each has a heart as big as the ocean - for what they did for their listeners. You made brilliant music and will be missed.
And you will

always

have a friend in Boston.