... And the Ever Expanding Universe
New Music
!

songs from The Most Serene Republic

By

Nikhil Gupta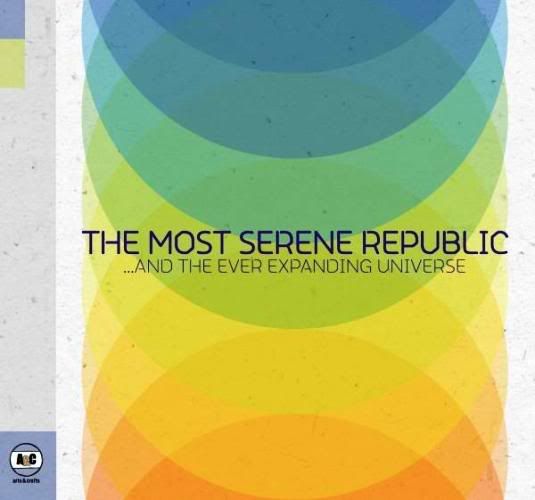 the new album is available now.
NEW MUSIC FROM ONTARIO:
This summer,
The Most Serene Republic
released their 3rd LP,
…And The Ever Expanding Universe
, and we've fallen in love with the Milton, Ontario band's melodious wall of sound all over again.
SUPERSATURATED SOUND:
Like many of their label-mates on the Toronto-based
Arts & Crafts
record label (they were the first band unassociated with Broken Social Scene to be signed)
The Most Serene Republic
ties together multiple instruments, voices, harmonies, and movements within a single song. Sometimes these parts are pieced together with delicate precision, and at other times they erupt with the force of a sledgehammer. At their best, TMSR create songs that accumulate sounds until they are supersaturated, leaving the listener to feel overwhelmed in the very best way. Check out the single "
Heavens from Purgatory
" to see what we mean.
The Most Serene Republic
TMSR are:
Adrian Jewett (vocals, trombone), Ryan Lenssen (piano, backup vocals), Nick Greaves (guitar, EBow, banjo), Emma Ditchburn (guitar, vocals), Sean Woolven (guitar, backup vocals), Simon Lukasewich (bass, violin), Adam Balsam (drums)
NEW APPROACHES:
On the new album, TMSR build to great heights - moment that fans have grown to love, but they've also found a way to experiment and branch out in new directions. Take, "Heavens to Purgatory" for instance; this track shows the band alternating between male and female vocal leads until Adrian Jewett and Emma Ditchburn finally come together in the heavily-syncopated chorus. Like most songs on the album, "
Don't Hold Back, Feel A Little Longer
" has various movements within itself (think of …And the Ever Expanding Universe as the work of a 7-person, less guitar driven Dirty Projectors), but here TMSR begins playing with electronic music in the style of recent releases from Passion Pit, Yeah Yeah Yeahs, and Metric.
On "
Catharsis Boo,
" the band takes one of its most ambitious undertaking. The song nearly spins out of control, but The Most Serene Republic finds a way to pull it all back together. (It happens when Jewett speaks a simple, quiet "
Alright
.") The effect on the listener is to put you in the studio where this song is being born: it feels as if you're present to hear a piece of chamber music played live right in front of you.
Their ensemble sound, and their classical flourishes, are very much in the forefront of this album, but producer Dave Newfeld (Broken Social Scene, Super Fury Animals) has helped the band find a pop sound that blends perfectly with their explosive character.