Dylan's 47th Album will be a Christmas Record - 100% of Proceeds go to Charity
BOB DYLAN SINGS CHRISTMAS -
I've made no secret in the past that I am lifelong Dylan fan and I haven't written a word about him as of late, which is why today's news is really wonderful. I'm the type who shuns Christmas as a whole - and find, for the most part, the music from that season to be utterly dreadful. (Longtime readers know this isn't completely true as a number of old X-Mas classics have won a place in my heart.... but not many tracks in light of just how many artists have released Christmas Classics.) Well now even I have something to look forward to...
Dylan's 46th record is one of our favorites to date!
CHARITY BEGINS WITH BOB -
Dylan will release a brand new album of holiday songs,
Christmas In The Heart
, on Tuesday, October 13, on the Columbia Records label. All of the artist's U.S. royalties from sales of these recordings will be donated to
Feeding America
, guaranteeing that more than four million meals will be provided to more than 1.4 million people in need in this country during this year's holiday season. Bob Dylan is also donating all of his future U.S. royalties from this album to Feeding America in perpetuity.
Additionally, the artist is partnering with two international charities to provide meals during the holidays for millions in need in the United Kingdom and the developing world, and will be donating all of his future international royalties from Christmas In The Heart to those organizations in perpetuity. (Yes, he is signing over all rights as well. Considering how well Dylan's albums sell, this is no small change!) Details regarding the international partnerships will be announced next week.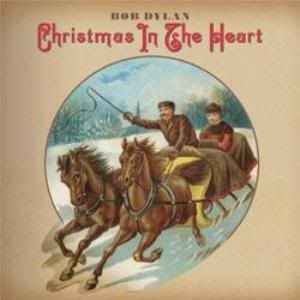 "When we reached out to Bob Dylan about becoming involved with our organization, we could never have anticipated that he would so generously donate all royalties from his forthcoming album to our cause," said Vicki Escarra, president and CEO of Feeding America. "This major initiative from such a world renowned artist and cultural icon will directly benefit so many people and have a major impact on spreading awareness of the epidemic of hunger in this country and around the world."
Bob Dylan commented, "It's a tragedy that more than 35 million people in this country alone -- 12 million of those children – often go to bed hungry and wake up each morning unsure of where their next meal is coming from. I join the good people of Feeding America in the hope that our efforts can bring some food security to people in need during this holiday season."
Christmas In The Heart will be the 47th album from Bob Dylan, and follows his worldwide chart-topping Together Through Life, released earlier this year. Songs performed by Dylan on this new album include, "Here Comes Santa Claus," "Winter Wonderland," "Little Drummer Boy" and "Must Be Santa."
Feeding America provides low-income individuals and families with the fuel to survive and even thrive. As the nation's largest domestic hunger-relief charity, our network members supply food to more than 25 million Americans each year, including 9 million children and 3 million seniors. Serving the entire United States, more than 200 member food banks supports 63,000 agencies that address hunger in all of its forms. For more information how you can fight hunger in your community and across the country, visit feedingamerica.org.
Who knows, maybe even this album will put me in the Christmas spirit!