DRUG RUG & MEAN CREEK tonight
What a Night for Live Music

!
A little secret for you music enthusiasts out there. The best nights on tour are the first and the last. (The latter for it's full throttle, come-to-the-end madness, while the former for it's pomp and the fun the musicians have on stage.) Here's what I'm talking about - our pick of the week:
The RSL Music Blog's Weekend Music Pick: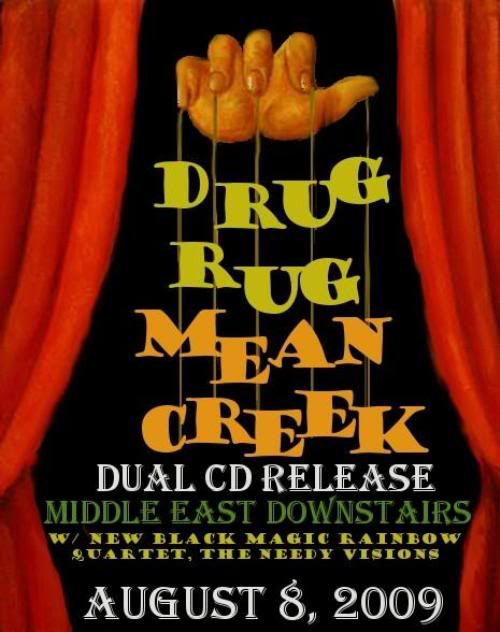 So how great then the fact that two highly touted Boston bands (a pair of local hotshots in a city brimming currently with world class music artistry) are releasing new albums in the same club?? We invite you to make your way over to
The Middle East
in Cambridge tonight for a special dual CD release party for Boston's
Drug Rug
and
Mean Creek
. Everyone's a winner - you too if you attend!
DRUG RUG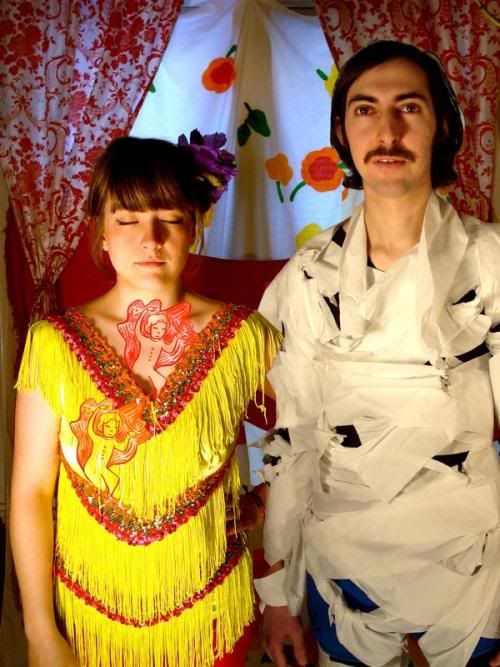 RED HOT, DRUG RUG are no hand-me-downs -
Thomas Allen and Sarah Cronin met in 2006 while working at the
Middle East Club
in Cambridge, Ma. After trading secret demos of their own songs, Tommy persuaded Sarah to combine forces. They spent their first date drinking whiskey in bed and playing each other songs on an old guitar. They've been inseparable ever since. Several months later, they christened themselves "
Drug Rug
," a name which has made strangers laugh and parents cry. [
Editor's Note
: I didn't write this but it's accurate and so damn funny that I had to include it. It's rare that a press release so aptly capturing the comedic aspects of a band and their nom de guerre.
We love to give credit where it's due!
]
Sarah just won the best Female Vocalist award from readers of the Boston Phoenix. With the new album and national music reviews for, "Paint the Fence Invisible," what you have is another Boston music phenomena in 2009. Here's just one reason you should pick up this brand new album, which we expect will be on our Best of 2009 List...
MEAN CREEK
Shervin Lainez photo
RSL BEST OF 2009 -
The very definition of a great cross-over band,
Mean Creek
are capable of rocking you to a restful sleep and rocking the ever loving hell of out you. Easily one of the most talented bands we have come across in the last few years, their energy and musical prowess come across in a big way on their brand new record, "Sky (or The Underground)" a record that expands the listener's sonic vocabulary and sets itself amongst the year's best releases.
Mean Creek
, who also hail from Boston, are one of our favorite acts right now! Chris Keene (guitar and vocals), Aurore Ounjian (Guitar, harmonica, vocals), Erik Wormwood (bass) and Mikey Holland (percussion) have crafted a genre-busting album which is in heavy rotation today as I write this. Here's an example of why you need to pickup "Sky" while copies of this new release are still available:
Bonus:
Mean Creek
"
Flophouse Session
" #204
Recorded by Band in Boston - Highly Recommended!