Blackberry Image of the Week - Flaming Lips / Boston
I didn't sleep well at all last night.
What, with the excitement of seeing both
Explosions in the Sky
(a personal favorite) and a stimulus-overload show from
The Flaming Lips
, I practically couldn't hold my eyes shut! While in some ways, EITS played the better set, the most profound moments (awe) came from Wayne Coyne and The Lips.
Case in point was the dramatic conclusion of the show
. The Flaming Lips had already played an epic version of "
The W.A.N.D.
" for the Boston crowd and then had satisfied the rest with "
Vaseline
." Wayne and the band returned for a gorgeous, fan-pleasing version of "
Do You Realize..?
" And in the midst of the fanfare and debris, I captured this shot (one of only eight I took with the Blackberry all night.)
Coyne at center, thrusts his fist into the air and the backstage and LED tubes projected his determined, manic features out into the night. It's not a great shot, but what it does do is lock a moment in time.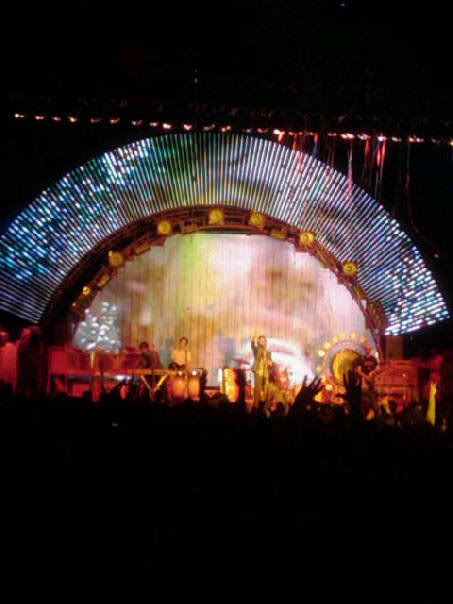 The Lips dedicated last night's show to Senator Ted Kennedy.
It was Explosions in The Sky's last night on the tour.