Barstool Sports to bring The Polyphonic Spree to Boston
BOSTON'S BARSTOOL SPORTS
are apparently partnering up with Southern Comfort to bring modern stage legends
The Polyphonic Spree to Boston
on Thursday, September 17th. The venue of the show is the Paradise, but the show is not yet listed on their
website
!

A FREE SHOW? -
According to Barstool Sports
, tickets will be "
basically free
." (FYI pre-Registration is sometimes required at these events. And I can guarantee you right now
it will
be a 21+ show.) Doors will open early - at 7pm on the 17th and
DJ Lord from Public Enemy
will warm up the crowd! We look forward to confirmation on this one!
Anyone at
Live Nation
or
Southern Comfort
care to comment?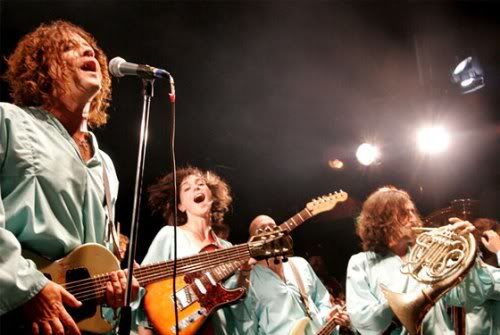 The Polyphonic Spree
by Danny Fontaine
"Hold Me Now
"
from
Together We're Heavy
The Polyphonic Spree lineup -
led by Tim Delaughter (Vocals): Mark Pirro (Bass), Bryan Wakeland (Drums), Keith Hendricks (Percussion), Ryan Fitzgerald and Cory Helms (Guitars), Audrey Easley (Flute), Buffi Jacobs (Cello), Tamara Cauble and Rick Nelson (Violins), Matt Bricker and Jay Jennings (Trumpets), Zach Giffel (Trombone), Nick Groesch (Keys), Evan Hisey (Synth),and Ricky Rasura (Harp). So you get the idea - it takes a real big stage to hold this band.
But the symphonic supergroup doesn't stop there
. Polyphonic Spree has it's own Choir: Kristin Hardin, Jessica Jordan, Jennie Kelley, Elizabeth Brown, Apotsala Wilson, and Jenny Kirtland. And as you can imagine a group of this size full of skilled musicians and talented singers creates an aural landscape you can get lost in.
Update:
You can now register to get a ticket code texted to you by clicking on the Southern Comfort banner on Barstool Sports' site or by going to

Southern Comfort's Web Site

. Just click on Undercover on the Music & Events tab.