We Recommend The Grownup Noise
Exciting New Music....
The Grownup Noise

2009 National Tour Kickoff


Friday Night - 7/24 @

The Middle East
We Believe in THE GROWNUP NOISE
Now I'm Not Sure, But...
if it seems like there's another great band emerging or a hot new album released every day in
Boston
..., it's probably because it's pretty much the case! It's a great time to be a music blogger in what has shaped up to be
one of America's most amazing music scenes
! It's with this enthusiastic introduction I introduce you to the music of
The Grownup Noise
.
"Give Me Time
"
from
The Grownup Noise
Brand New Music!
The Unleashing Is the Hardest Part:
Armed with a new album's (the CD is self-titled) worth of material, The Grownup Noise embark on a
massive national tour
this week and we are hoping a good number of you Boston folks will help them get off to the great start they deserve tomorrow night. Arrive at the Middle East early to ensure your place before a full night of stellar live tunes. The lineup's incredible: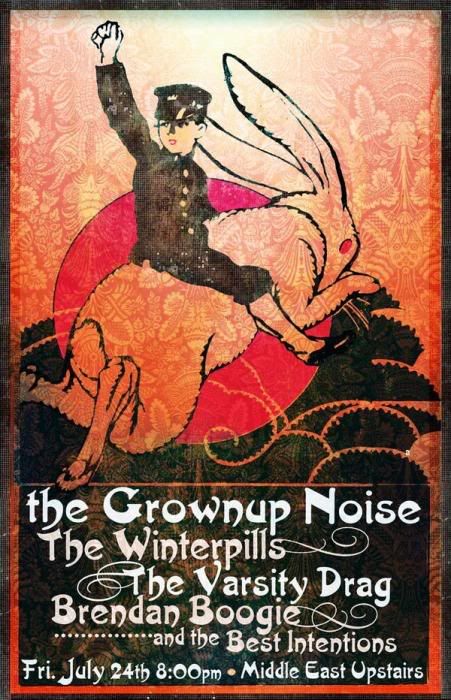 The Sound of Good Things Coming to Be...
One listen will very likely win you over. The Grownup Noise (Paul Hansen: guitar and vocals, Adam Sankowski: bass and vocals, Katie Franich: cello, and Aine Fujioka: drums) make arresting music.
Check them out on tour.

The Grownup Noise
SUMMER TOUR 2009 DATES
Friday, July 24th
at
the Middle East
National Tour kickoff show!
Jul 27th
-
Columbus, OH
The Rumba Cafe
Jul 28th
-
Athens, OH
Casa Cantina
Jul 29th
-
Chicago, IL
The Darkroom
Aug 3rd
-
Minneapolis, MN
The Acadia Cafe
Aug 5th
-
Billings, MT
Off the Leaf
Aug 6th
-
Spokane, WA
Caterina Winery
Aug 7th
-
Portland, OR
The Red Room
Aug 8th
-
Seattle, WA
The Comet Tavern (4pm show)
Aug 8th
-
Tacoma, WA
Doyle's Public House (late show)
Aug 10th
-
Santa Cruz, CA
The Crow's Nest
Aug 11th
-
San Francisco, CA
The Hotel Utah
Aug 12th
-
Sacramento, CA
Marilyn's on K California
Aug 16th
-
San Diego, CA
Brick by Brick
Aug 18th
-
Los Angeles, CA
Spaceland
Aug 19th
-
Tucson, AZ
Club Congress
Aug 20th
-
Santa Fe, NM
The Cowgirl
Aug 21st
-
Albuquerque, NM
Location TBA
Aug 24th
-
Denver, CO
The Hi-Dive
Aug 25th
-
Louisville, KY
The Hideaway Saloon
Aug 26th
-
Nashville, TN
The Springwater Supperclub
Aug 28th
-
Asheville, NC
The Bobo Gallery
Aug 29th
-
Washington, DC
The Red and Black Bar
Aug 30th
-
NYC
Rockwood Music Hall