Rock Heroes The Luxury unleash a Stellar Sophomore Album
Going out Weekend Edition

!
Saturday Night, 7/11/09
The Scene:
The Paradise
in Boston
Photo of a smiling Jason Dunn by

Sooz
EXCITING and NEW -
There is no doubt that a musical revolution of sorts is underway here in Boston. This city's music scene has been on the rise for a few years now and is nearly back to it's place of prominence years ago.... So many exciting new bands of note to speak about. An astronomical number of high end shows and a loyal fan-base (sometimes powered by the student population, sometimes even despite it) are helping Boston regain it's proper place as one of the American cities with the best music scenes. It's taken a good while to accomplish but with blood and sweat from bands like The Luxury - we are now in good stead.
Saturday is a special day for the Luxury as they will release
In
The Wake Of What Won't Change
album, their incredible sophomore release. It's a bold prediction, I know, but after listening for just two days - I don't think this band or the local music scene will ever be the same.
Head of the Class -
Powered by the resources of several local studios (a prize pack
won by the Luxury
for taking home the win in the
2009 WBCN Rock n Roll Rumble
) and steered by the creative mind of frontman and resident sound engineer Jason Dunn - this new release is a piece of art. Parts of
The Wake
are achingly beautiful, while others are straightforward rockers but the production values, songcraft and musicianship here speak to the amount of time put into this labor of love. Heavily influenced by mid- and late- American 80's rock and British rock (both pioneers the Beatles and modern invasion bands like Duran Duran, Oasis and James) - Dunn and company have found their own niche by incorporating these sounds in a fresh, celebratory way. We will be talking about this record in more detail later this year as it already looks to be one of the better albums to be released nationally in 2009.
On Saturday night, The Luxury will let everything unfold over at the Paradise. Guest performers on their setlist include: The Click 5, Midatlantic and Aloud - making this one hell of a show. The Luxury's closing set on Saturday night may be influenced by the projection of films at the Paradise. The short movies, the works of amateur and student filmmakers should enhance that is already close to stimulation overload. Easily one of the best lineups we see on the calendar for the next month! (A challenge to the band, try to beat your own legendary
Rumble Night One performance
this year. It's the best I have ever seen you sound - just outstanding!)
A Legendary Performance: The Luxury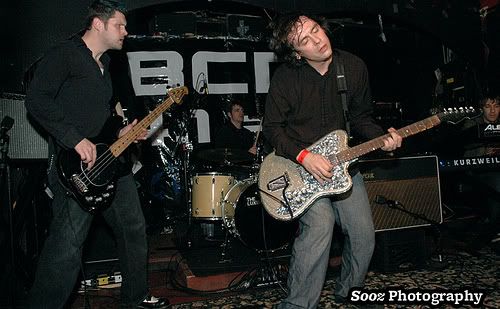 Photography by

Sooz
Details for Saturday Night's Performance:
The Paradise
at 967 Commonwealth Avenue - 7/11/09 9pm doors - Admission 18+.
$12 in advance
(
today's the last day to take advantage
) or
$15 at the door/day of show
. We cannot urge you highly enough to check out this show! In addition to being highly entertained, this one will likely be talked about for a very long time.
Pick up a copy of
In The Wake Of What Won't Change
at the show. For those reading this outside of the Boston area, I will get you online album purchase information very soon!