Premiere: Golden Bloom's Dead Petals and The Shawn Fogel interview
A LITTLE BACKGROUND +
WORLD PREMIERE MUSIC
:
We recently told you about how
Golden Bloom
is giving away each song
track-by-track
from their forthcoming album
Fan the Flames
- well, now it's our turn...
Ryan's Smashing Life
has been selected as one of the online outlets to give away a song from this remarkable album. We are already convinced that this album will prove to be one of the year's best new releases. (It's late July and I saw this with confidence.) Yes,
Fan the Flames
is that good - and Fogel is to credit/blame. Today we help Golden Bloom unleash Dead Petals, possibly the oldest, most well-conceived song from the record!
Fan the Flames

will formally be released on August 18th
The Fan the Flames album and Golden Bloom, itself, are fruit from the musical rainforest that is Shawn Fogel's artistic mind. Fogel is one of those multi-faceted talent capable of playing several instruments - squinting his eyes only when frustrated with how things are going. He never really appears challenged. (While clearly inspired by the musicians around him - folks he needs to perform the songs live, Fogel played and recorded practically all the instruments on the new record himself!)

A listen to the new material and a little excursion into Fogel's artist backlog demonstrates that he's also a gifted songwriter. We decided we wanted to find out a little bit more about the album, the song we would be giving away and about Fogel himself.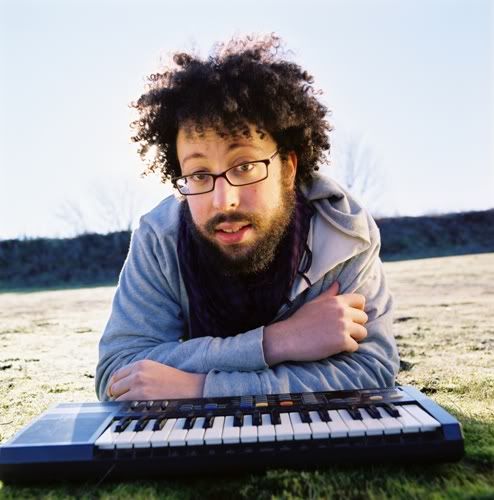 Golden Bloom's Shawn Fogel
RYAN - RSL:
Shawn, we love the album - but we are here today to discuss the song first. Can you tell me how "Dead Petals" was written?
SHAWN FOGEL:
"Dead Petals" was written back in 2006 and originally appeared on the
One Day in the Desert
EP I released in 2007 (as Shawn Fogel, pre-Golden Bloom).
RSL:
Did the music come first or the words during the creative process? Can you walk us through that?...
FOGEL:
It's hard to recall the precise songwriting process, as far as whether music or lyrics came first or if they came together. I do know that I wrote it in my old apartment in Northampton, MA on my Harmony Rocket electric guitar, and the tempo was significantly faster than it is now. This song was first of many that were inspired by my frustration with and disdain for the Bush administration.
RSL:
In your mind, where does "Dead Petals" stand in relation to the others on the
Fan the Flames
album?
FOGEL:
I went back and forth on whether "Dead Petals" would be included in this album. At first I considered simply using the version of the song I recorded for the
One Day in the Desert
EP. Once the album began to take shape it was clear to me that using the pre-existing track wouldn't suffice, and if I wanted "Dead Petals" on the album I would have to remix it or re-record it. I ultimately decided to start from scratch, and with the keen and clever ear of Roger Greenawalt by my side we deconstructed the song and put the pieces back together. We ditched the guitar solo, reworked the arrangement and added my new favorite part of the song (the chorus where I hit just about the highest note I can belt out). Now that the album is done I'm very glad that I decided to keep "Dead Petals" in the mix, and it's easily one of my favorite tracks on the record.
RSL:
It's probably mine too, Shawn. I really like the song and thing it lends a lot to the album. So let's talk about the album now. What was the creative process like for
Fan the Flames
?
FOGEL:
I don't know if the way I went about making
Fan the Flames
would be advantageous to many other artists. It was recorded over the span of a year, tracked and mixed in four different studios with four different engineers/producers. Some songs were fully written and ready to go when I walked into the studio. Others were merely a chord progression and a melody when we started tracking, lacking lyrics until the day I recorded vocals for them.
RSL:
Can you speak on your instrument-choice and how that influenced the final "spirit" for Fan the Flames?
FOGEL:
Certain instruments played a key role in the sound for the album. I fell in love with the glockenspiel while making this record, and you can hear it on more than half of the songs. "More glock in the rock!" became my mantra in the studio. The Wurlitzer electric piano, Hammond organ, Sequential Circuits Pro-One synthesizer, and the Arp String Ensemble synthesizer were all major players on the record, as well as acoustic upright piano. If I ever try to pull off these songs note for note like the recording in a live setting I'll probably need 2 or 3 keyboard players in the band!
RSL:
(smiling) I know! Everything on
Fan the Flames
is so layered. It was a bit of a surprise - a bit like listening to the Beach Boys'
Pet Sounds
album on first listen. I was sitting there, straining to name each instrument as they appeared. it's really quite beautiful!
FOGEL:
My favorite instrument on "Dead Petals" is actually the banjo, which I play on the second verse. I never really learned how to play banjo properly, but it's impossible for me to not pick it up if there's one in the room. The other reason I like the banjo part on Dead Petals is because of what that microphone picked up other than the banjo. If you listen carefully you can hear Roger's cat Chatterbox walking across the piano at the very end of the second verse. You'd think that when a cat mashes some dissident notes while you're rolling tape you'd scratch the track and go for another take, but Roger and I looked at each other and said "that's a keeper".
[
EDITOR'S NOTE:
Fogel passed along the fact that they captured Chatterbox the Cat up to more creativity in studio on video....
Check this out
.]
RSL:
So how did it occur to you to release a song each week? What was your motivation?
FOGEL:
I wish I could claim such a great idea as my own, but it was my manager
Janelle Rogers
who thought it up. She's constantly coming up with creative ways to promote Golden Bloom, and this one has been the best by far. What I liked most about it was that allowed me to feel like I was giving something back to the music magazines and blogs who have been supportive in the past. I really owe a lot to these sites (RSL included) not only for listening to my music but for getting others to take notice too.
RSL:
Well falling into line behind a musician or a project's not that tough when the music's so good! I was just curious, which contemporary artists do you feel kinship with? Who inspires you right now?
FOGEL:
I feel very lucky to have so many amazing musical co-conspirators in my life. I feel great kinship with everyone who at one time or another plays in Golden Bloom's live line up (Michael Azerrad, Jeff Patlingrao, Ryan Ball, Josh Cohen, Dan Saks, Andrew Laubacher), as well as the other bands that I play in from time to time (The Zambonis, The LeeVees, JP05, The Philistines Jr.,The Macaroons). There are bands and artists who I've shared bills with in the past whose music is as awesome as they are as people (Meredith Luce, Todd Deatherage,
The Motion Sick
, Canadian Invasion). At this moment I'm really loving the new self-titled album by Cincinnati band Wussy.