Camera Obscura at the Somerville Theatre
On Further Review
by
Jen Peterson & Sean Hafferty
The Scene:
Somerville Theatre - 6/25/2009
Camera Obscura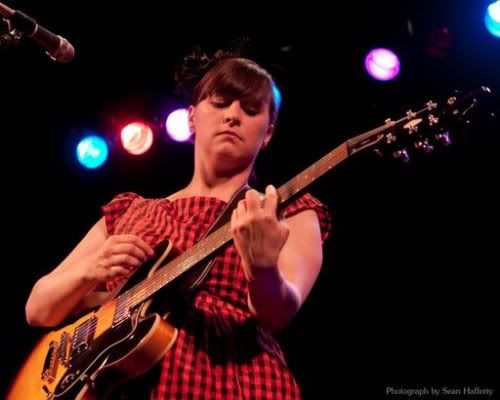 Photographs by Sean Hafferty
Admission of Entertainment -
Ok, I'll admit it: I had never really listened to
Camera Obscura
(
RSL
Best of the First Half
2009
) before this night. (
You can smack me later
.) I know everyone loves them, and after reading the write-up in the Metro, I was intrigued. When it was learned there was an extra ticket, I found myself the 'correct caller' and got to go.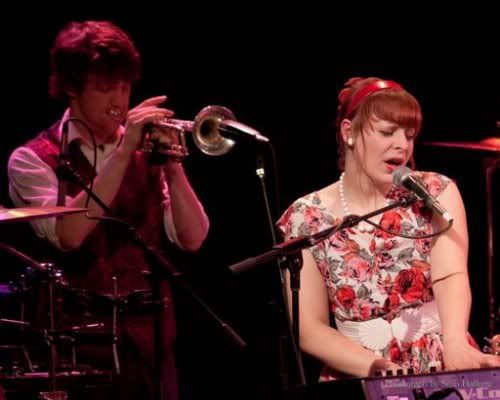 NOW, due to my ignorance and
the Metro
article, I was prepared for "Mope Pop." And perhaps it comes through more on the CDs. All I can say is,
I found them delightful and fizzy
; a 60s-esque blend of Herman's Hermits, The Crystals, Sixpence None the Richer, and Rilo Kiley. No moping allowed.
I may well have been the only person in the audience who didn't know every word to every song. Each tune inspired some level of audience participation, be it sassy clap…clap-claps, seated versions of Riverdance, or drunken hoots lauding Scotland.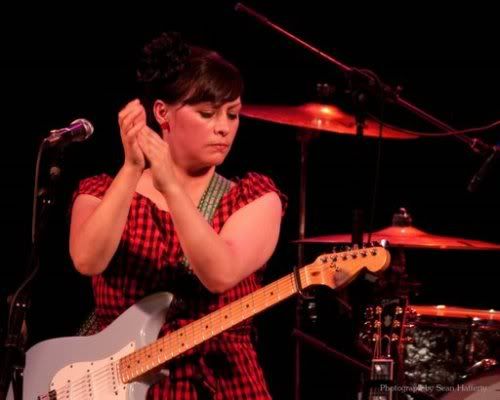 In a soft brogue, Tracyanne introduced the band's one and only cover of the night: the Boss's "
Tougher Than the Rest
." Then with a jaunty four-count on the drumsticks, they embarked upon back-to-back, get-up-and-dance crowd pleasers, "
Come Back Margaret
" and "
Lloyd, I'm Ready to be Heartbroken
." Folks of all ages bopped and swayed like the Rydell High dance-off extras in Grease.
Encore cheering brought Kenny and Traceyanne back on stage for a pared-down, raw-hearted presentation of "
Other Towns and Cities
." Her voice was starting to go (what is it about Boston that keeps robbing lead singers of their pipes?!), but she more than managed to hold her own and our hearts before being rejoined by Carey, Gavin, Lee, and François (who, with playful guit-artistry and bluesy Bright Eyes-esque songs, warmed us up in lieu of
Anni Rossi
).
The opening notes of "If Looks Could Kill" launched the crowd back onto their feet. The night wrapped up with the frisky "
Razzle Dazzle Rose
" (for which the myriad drunks had been calling out for throughout the evening..., and which called to mind the chorus of "
Midnight Confessions
" by the Grass Roots).
We filtered out, smiles stretched across our faces and springs in our step. Maudlin, Schmaudlin.
Camera Obscura

RSL Streaming Photo Album
images by Sean Hafferty