Andrew Bird & Calexico at the Pavilion
ON FURTHER REVIEW
Photography in this piece by Sean Hafferty
Friday marked the second occasion in just a few short months that I have witnessed the exacting, musical magic of
Andrew Bird
up close on a Boston stage. Tall, thin and precise - Bird cuts an easily identifiable silhouette up on stage. Behind him, several sound projection devices and instruments that easily eclipse his size. Weight, in anything other than performance, really never comes to bare at a Andrew Bird show. It's all about creative genius. Bird is very much like an intricate toymaker up on stage and his customers are awed by his musical concoctions.
Bird is touring behind "
Noble Beast
" (RSL
Best of 2009 selection
), his fifth album - marking his largest crossover success to date in his career. Much of my admiration for Bird isn't actually due to what or how he plays (his guitar, violin and xylophone playing - and his whistling are all just amazing) - but it is the fact that he is bringing something new to the masses that I respect the most. It is the fusion between instrumental rock and indie that wins me over. It's a creative platform that Bird and Beirut's Zach Condon (and very few others) stand on.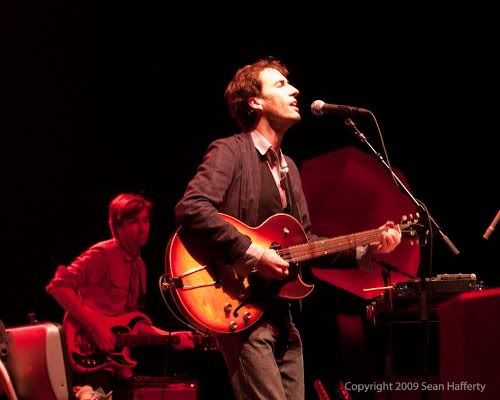 The stage performance was graced, notably, through the drums of Martin Dosh. Dosh played a cool but enthusiastic set with Bird and it was his pacing that helped set the tone whenever he was on stage. Bird seemed most appreciative. We were also thoroughly impressed with Bird's use of a loop pedal on Friday night. Outside of
David Ford
, Bird is the best musician I have seen use this effect this smoothly, effortlessly and without flaw. Very special to see all that sound and noise come out of one person!
RSL Live Photo Album
by Sean Hafferty
ANDREW BIRD
The very fact that Andrew Bird was paired with talented alt-country/exploratory sound technicians
Calexico
was reason alone to celebrate. Calexico have developed a latin-influenced quality to their music that's not common in these parts. This was a rare opportunity for the audiences in Boston. And the band played it up. This was their sendoff show as Calexico are now on a long string of dates throughout Europe.
Intermingled between songs of lament and love, Calexico exorcised their own demons . Capable of the same soft, ethereal qualities in their magic that have made Andrew Bird hfamous, these Arizona sons can also tear the roof off - and they do. This can make Calexico a bit more accessible than Andrew Bird due to his intricacies. Tonight
everything
was just right on all accounts; a damn good time.
RSL Live Photo Album
by Sean Hafferty
CALEXICO