Marching Orders - Coldplay and "Left Right Left Right Left"
STEPPING INTO A NEW DAY:
Coldplay wants to thank their fans - who have helped make the seemingly endless Viva La Vida tour - a huge success. (More dates are listed below.) They are giving away (with free email registration) a total of nine live songs to make you feel like they do... So to speak. Capturing the spirit of the tour (which just keeps marching on),
Coldplay
have titled the free downloadable EP,
Left Right Left Right Left
. The album contains a free version of "
Viva La Vida
" and "
Clocks
" - which should make a whole lot of rabid Chris Martin fans really glad to be alive..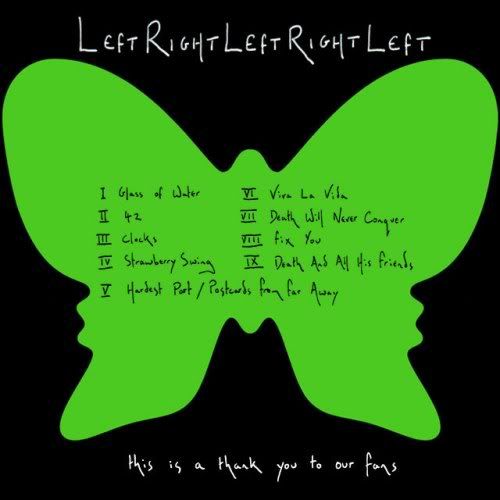 Remaining Viva La Vida Tour Dates:
18/05/09: Birmingham, AL
20/05/09: Virginia Beach, VA
21/05/09: Washington, DC
23/05/09: Hartford, CT
24/05/09: Hershey, PA
26/05/09: Philadelphia, PA
27/05/09: Saratoga Springs, NY
29/05/09: Scranton, PA (
Cancelled
)
30/05/09: Pittsburgh, PA
01/06/09: Buffalo, NY
02/06/09: Detroit, MI
04/06/09: Cincinnati, OH
05/06/09: Indianapolis, IN
06/06/09: Nashville, TN
09/06/09: New Orleans, LA
10/06/09: San Antonio, TX
12/06/09: Des Moines, IA
13/06/09: Omaha, NE
15/06/09: Winnipeg
17/06/09: Calgary
18/06/09: Edmonton
20/06/09: Vancouver
21/06/09: Vancouver
02/07/09: Arras
03/07/09: Werchter
05/07/09: Roskilde
10/07/09: Portland, OR
11/07/09: George, WA
13/07/09: San Francisco, CA
14/07/09: Sacramento, CA
16/07/09: San Diego, CA
18/07/09: Carson, CA
19/07/09: Irvine, CA
21/07/09: Dallas, TX
22/07/09: Houston, TX