CAGE THE ELEPHANT
RED HOT

!

- NEW MUSIC:
When you're hot, you're hot....
Cage the Elephant
used to belong to little Kentucky, but now they're sons of the World. This is the story of a band that had to make it in the UK before labels and listeners in the U.S. would give them a real shot. Their debut came first in England last June on British Indie label Relentless. (Top 40 UK charting in the UK ensued!) The subject of much talk in the U.S. after last year's SxSW Music Festival, CTE seemed to disappear for just a bit while they were working on their new material. This early success earned the band a top 40 hit and a new deal today with Jive Records (the Zomba label Group) in the US. Well, it seems the brief time out of the spotlight for the band was well worth it.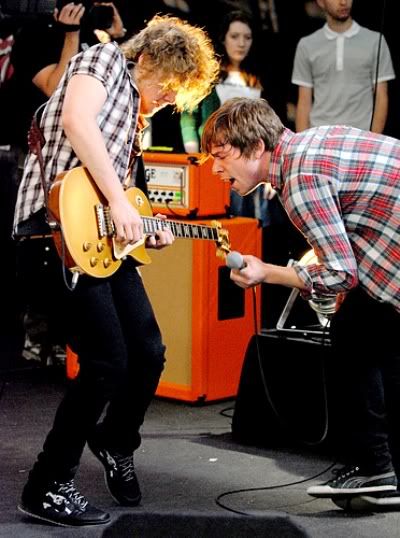 Cage the Elephant are:
Matt Shultz (vocals), Brad Shultz (guitar), Daniel Tichenor (bass), Lincoln Parish (guitar), Jared Champion (drums)
The first single and video off of the new album (
pictured below
) is "
Ain't No Rest for the Wicked
," in which Matt describes being mugged by a drug dealer and picking up a young female hitch-hiker he soon finds out is a prostitute. "
That song is about realizing that everyone's got a back-story and that essentially we're all the same
..."
BIO - influenced by Hendrix & Dylan:
The Shultz brothers grew up poor, sharing a tiny room in the family's two-bedroom apartment with two other siblings. "
Our dad drove a supply truck and he was gone a lot
," Matt recalls. "T
here wasn't a lot of money or anything to do so we would make up goofy songs to pass the time
." At age 12, Brad bought a beat-up guitar from a neighborhood kid for $20 that he played until it literally fell apart. Not long after their parents were divorced, Brad snuck home a cassette of
Jimi Hendrix
's Live at Woodstock, which the brothers listened to obsessively for three years, cementing their love for rock and roll. A few years later, Matt bought
Bob Dylan
's The Times They Are a-Changin'. "
That was a huge, life-changing album for me.
" he says. "
Just the honesty in Dylan's music and how he looked at society, it really opened my eyes to how blind we really are.
" After the brothers' parents divorced, the music floodgates opened and they began to devour everything they could find from
the Beatles
,
The Ramones
,
Led Zeppelin
,
Chuck Berry
,
the Rolling Stones
,
Nirvana
, and
the Pixies
, to name but a few.
a FOLK-BLUES-ROCK-PUNK RAVE! -

The Debut Album
NOW AVAILABLE IN STORES