THE BEST LIVE NIGHT SO FAR IN THE RUMBLE:
This was the best attended and toughest to deliberate night so far for the 2009 Rumble. People were turned away at the door due to the club being at capacity at a very early hour... And the bands responded - the performances were simply incredible! Barring
The Luxury's stellar performance on

Night One
- this was the best showing of music this insane week has offered up so far. The Dirty Truckers took the win after much deliberation from the judges.
WILD CARD PREDICTION:
Do not be surprised if The Motion Sick or The Have Nots take the Wild Card spot in the Rumble's Semi-Finals. (It's a crowd-favorite spot...
The Wild Card band
has won two of the last four competitions!) This announcement will come at the end of the Week... Maybe we are coming out on this a little early... We'll see!
THE FATAL FLAW:
We are new to the
Fatal Flaw's sound
and welcomed the opportunity the Rumble affords us to check out new Boston music. Falling into step behind indie-pacesetters-turned-mainstream Jimmy Eat World,
The Fatal Flaw
entertained the crowd. They definitely helped turned the entertainment level up, setting the tone for a huge live night of Boston music!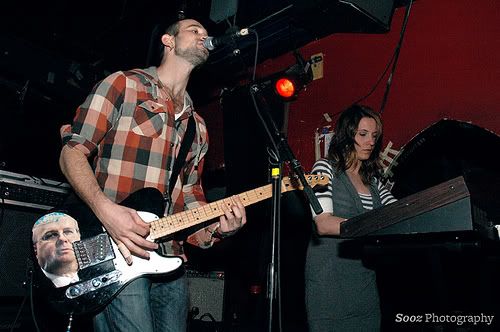 Who knew Karl Rove was into guitar? The Fatal Flaw.
Photo by Sooz
THE DIRTY TRUCKERS:
I like these guys right from the get-go because they're from Jamaica Plain - a part of the city where I used to dwell a while back. JP bands are raw and just plain fun - and
Dirty Truckers
are certainly no exception. Their blues-influenced rock transported the crowd off to someplace else on Night Three. They played real big and gutted it out to take the night!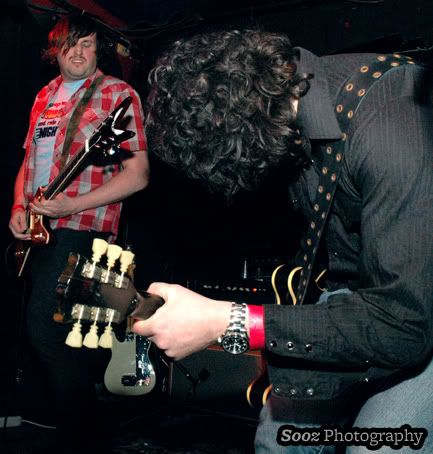 Raw, Return-to-Roots Rock from Dirty Truckers
Photo by Sooz
VIDEO:

The Dirty Truckers on Night 3!
THE MOTION SICK:
Probably one of my favorite two or three Boston bands to see. This incredibly
bright
and promising band never, ever disappoints. They played to a full crowd of enthusiasts and supporters. We would not have been surprised in the slightest of these guys took the Win on Night Three.
The Motion Sick
have the inside track right now on being named this year's Rumble Wild Card.
The Motion Sick were incredible on Night 3
Photo by Sooz
THE HAVE NOTS:
We couldn't have asked for a better ending to a huge night of live music!
The Have Nots
are one of the better modern punk/post-punk bands we have seen in ages. They manage to sound clean and crisp without being sellouts but their sound was choppy, vibrant and alive - everything we crave in a standout throwdown! We were very very impressed with these guys. Like much of the crowd on Night 3, will be looking for one of their shows soon!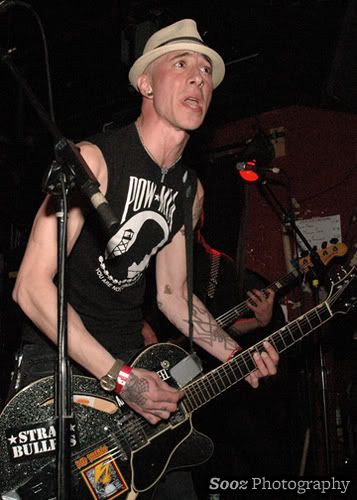 The Have Nots were impressive!
Photo by Sooz
RUMBLE NIGHT 2
RSL PHOTO DIARY
Images by Sooz
Free RSL Subscription