RUMBLE COVERAGE - Sarah Rabdau Advances with a Night 4 Win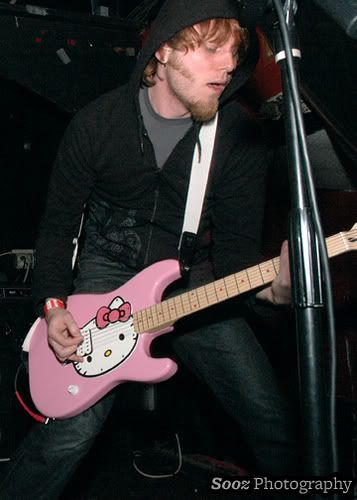 Izzy's Hello Kitty guitar comes in a coffin case!
Photo by Sooz
ANARCHY CLUB:
Anarchy Club is a hard-rockin' movie soundtrack sprung to life on stage! It's hard to describe them better or more aptly than they have themselves,
Anarchy Club
loves; "Muscle cars, Kung Fu movies, video games, Tyler Durden, and horror films." (from
myspace
)
Juan on drums for Muy Cansado
Photo by Sooz
MUY CANSADO:
We are big fans of this band's debut album
Stars + Garters
and their patented indie-style sound!
Muy Cansado
is definitely a band to be watching in the Boston Scene!
Dead Cats Dead Rats
Photo by Sooz
DEAD CATS DEAD RATS:
With their bombastic garage punk sound, the value got turned way up at the Middle East.
Dead Cats Dead Rats
played a fast-paced set. Tracks ranged from rambling rock to deconstructed punk.
Just Delightful - Sarah Rabdau
Photo by Sooz
SARAH RABDAU AND SELF-EMPLOYED ASSASSINS:
You are dead wrong if you think there's no room for personality in music. This was proved positively on stage during Rumble Night 4.
Sarah Rabdau and Matt Graber
makeup this dynamic vocal, piano and drum, two-piece. Thoroughly impressive - good entertainment!
NIGHT 4 VIDEO:


SARAH RABDAU AND SELF-EMPLOYED ASSASSINS
RUMBLE NIGHT 4
RSL PHOTO DIARY
Images by Sooz
Free RSL Subscription