PJ Harvey and John Parish's "A Woman A Man Walked By"
ON FURTHER REVIEW




by

NICK PARKER
PJ HARVEY and JOHN PARISH
Let me give some context for what I'm about to say about
PJ Harvey and John Parish's
new album,
A Woman A Man Walked By
…
I am a
PJ Harvey
OBSESSIVE
.
Her last record,
White Chalk
easily topped my best albums list for 2007. It was the kind of record which made me want to go and spend a couple of thousand dollars on a piano (which I cannot play) and spend the next year trying to write even a single line a haunting as those she had recorded for that album. The list of great work from
PJ Harvey
doesn't end there. Who can forget albums like
Is this desire?
, with its vicious industrial scrawl, or the exquisite
Songs from the City, Songs from the Sea
. Just in case I haven't made my point (that I am, indeed a huge fan), perhaps I should introduce my cats named in her honor: tabby female "
Polly Jean
" and long haired ginger female "
Harvey
." Yes, when I fixate… I do a smash up job of it!
The New Album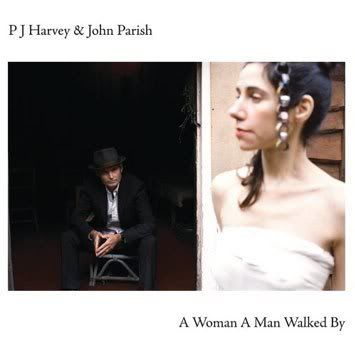 So it's a sad day when I come to
A Woman A Man Walked By
and have to admit that while it isn't a horrible album - it does have some serious problems. There are some dubious lyrical choices. The lyrics to "
April
" seem surprisingly prosaic, for example. "Pig Will Not" ends with
Harvey
shouting "I will not" again and again, and makes you wonder if she really has anything to say this time around.
The First Single from the Record
Deceptively Good & not representative of the album
There are still some great, moving, tracks, like "
Passionless, Pointless
" and "
Leaving California
," but the overall album is very uneven. I'm a little more bitter at this because the single, "
Black Hearted Love
" is deceptively like an excellent track from
Songs from the City…
, so it raised my hopes that this might be the best new release of the year from an established act. That accolade still goes to the
Yeah Yeah Yeahs
right now (perhaps until
Maximo Park
next month?). Meanwhile I'm sad to say
Harvey
needs to rethink things a little, if she's to produce the great new music I know she is still capable of. I recommend this artist wholeheartedly, but not this record. We have heard her do much better.
Black-Hearted Love - Official Video