A Night of Rock - Not to Be Missed!
Ryan's Smashing Life presents... a Night of Rock!
Fresh off their absolutely Huge 2009 Rock 'n' Roll performance,
The Lights Out
headline a night of indie rock this evening over at
Great Scott in Allston
. We love these guys and are delighted to have them play the show. Joining TLO are another recent Rumble band,
Logan 5 and the Runners
- the city's best vibe band so cool that they make beer taste better! For the first time ever in Boston - we bring you
Fishhawk
. This amazing band from Atlanta, are making lots of noise on the national music blogs and we know you will love their incredible sound. (Their
new video
just came out last week!) Starting us off is Boston's
Hundred Years War
- who just released their second EP ("Ocean Floor" is really good - we will be reviewing it here soon!) Here's one of their new tracks - being offered for the first time!
Here are 4 unbelievable bands on the same bill and for an unbelievably low price (just $8!)
BOSTON, Don't Miss this One!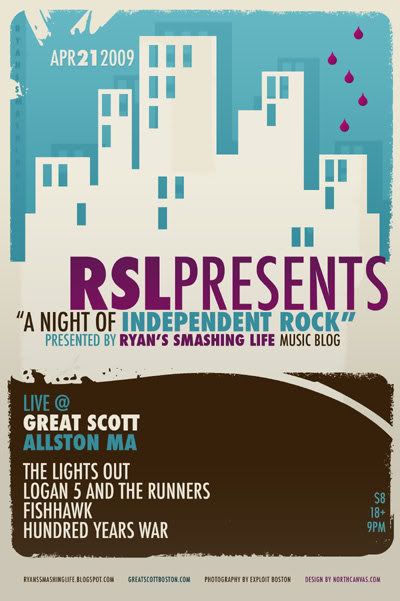 poster art & design by Thomas Gallo
THIS IS WHY WE DO THIS....
TONIGHT'S BANDS:
The Lights Out
GREAT SCOTT
TONIGHT

- 9pm /18+ /

Nice RSL Price: $8


1222 Commonwealth Ave
Allston, MA 02134