Et Tu Fluffy? - a Must-Have Record
EMERGING:
We receive dozens of albums each week and are offered more still digitally through email each week... but it oddly makes sense that one of our favorite new albums of 2009 comes from right here in Massachusetts... Meet
Hands and Knees
- this completely indie and beautifully unpolished quartet are on the verge of releasing,
Et Tu Fluffy?
- a vibrant eleven song album that has us hoping this music group will be around for a very long time.
on sale 4/28/09
THE BAND:
Hands and Knees' Joe O'Brien (guitar) and Carina Kelly (bass) share the vocal duties on Et Tu Fluffy? and are the best new 1-2 singing foil we have heard since Laura Burhenn and John Davis of
Georgie James
(
RSL Best Albums of 2007
). Adding to the Hands and Knees mix: Scott Hoffman (lead guitar) and Philip Ilatovsky (drums) and what you have are four members who each speak through instruments. Since the tracks on Et Tu Fluffy are so rich and diverse, each song seems to provide each member with a podium to play on; a time to shine!
The record begins with the soft and diminutive
Midnight in the Applefield
, but let's just say that while the song starts small - it doesn't stay that way for long. Applefield has us wondering if the band was made up about a lovers' rendez-vous or a secret party of friends - both of which might get heated up as town goes on! Handclaps are a primary percussion element throughout the album and they usher us into the album here.
Et Tu Fluffy takes on it's modern indie/alt-country flavor with
Hot Little Item
, a swirling, slowly climbing homage to a girl that I swear to god could have come from Roy Orbison. Hands and Knees perform the pop-dipped in country guitar track admirably. We can almost smell the whiskey and taste the dust coming off the pickup on that winding country road... Very nice!
Just when you assume you have things pegged, the band comes out with
You Thought It'd Make You Feel Better
and
A Great Pain
and
Blue Day Moon
- 3 songs that are both more subtle and in some ways also far more frenetic and indie rock than their two predecessors. This is no mistake, however, there is more in the bottom envelope than I realized when I opened the mail. We definitely hear bits of
Murder Mystery
and the
Talking Heads
on this trio!
Practice Space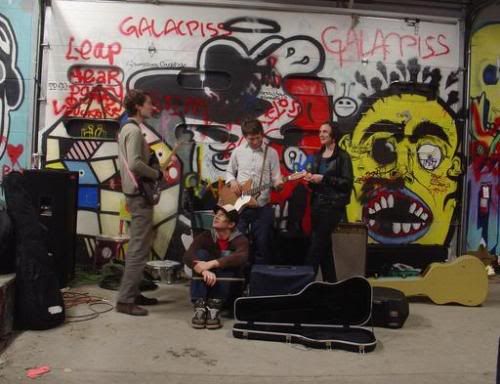 And this brings us to
You Got Pop, You Got Style
- a song that elements of Cracker and the Pixies (sorry, the Frank Black comparison was coming at some point and it's being made in the middle of a compliment!) We just love this song - it's a fast little ditty, but it gives you a small snapshot on just how good this record really is...
Kelly wrests singing duty away on
Anywhere But Here
, a traditional rock lament song. The only difference here is the underlying drums and bass used as vehicles to drag the listener off into the distance. Swirling guitars later join into the fray and finish off the job. Nicely done.
We love a good joke and when it's a good joke embedded in a good song it's even better... Ask anybody you know that's been in a band for any significant amount of time - so long as they are not the dude, they will probably tell you stories about difficult to understand drummers. Drummers sometimes don't get along with Singers. They leave. New weird, flaky drummers take their place... Well, obviously the band chemistry also holds true with personal relationships in general. So the question,
Do You Really Need a Drummer?
makes for an interesting storyline. Tip of the hat Hands and Knees!
We jump on the hayride for the howling, constant upstage that is
We Are The Man Who Cannot Fly
. I can already hear this song as the first of a two-piece encore at the end of a wild live show. (Sorry guys am I writing your setlist? This song is just too perfect for this purpose.) We definitely get chills when we hear great live music and this track almost sounds like it was recorded on a Boston stage before a loving, live audience. Echoes here of Lucero and Man Man. (Fair comparisons to successful kickass music!)
It took me a few minutes to figure out why I like
Shove It Up Your Heart!
so much. (Well, other than the awesome title.) And then it came to me, Hands and Knees do their very best
Muy Cansado
on this track. Jangly guitar, punctuated by voice and two-part harmonies... Just awesome!
The coup-de-gras as they say is
What Ever Happened to That Beautiful City?
- an absolutely gorgeous deconstructed number punctuated by hand claps, foot stomps and delicate bits of silence between notes. This is the closest sound we have heard to
Sound Team
(one of our all-time favorite and now deceased bands from Austin, Tx)... This was how they say, "The Perfect Ending to an absolutely wonderful album."
Hands and Knees have much to be proud of here.
Et Tu Fluffy is a Best of 2009 Selection.
Now do your job and get a copy of this record!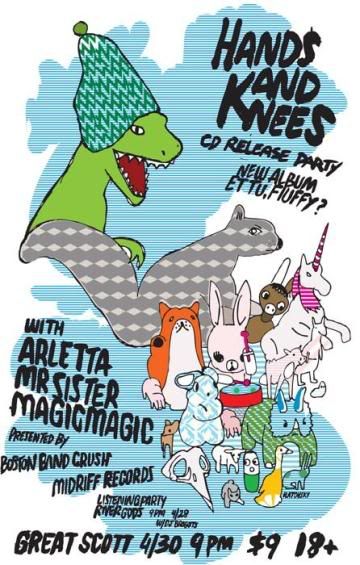 On April 28th
Midriff Records will release Et Tu Fluffy? and will sponsor a CD Release/Listening Party at
River Gods
in Cambridge. That's the day you can also start buying this one online! (
Encouraged
.)
On April 30th
, the band will unleash the album before a live audience - as this music was meant to be heard - at
Great Scott
. The night is being sponsored and hosted by our friends over at
Boston Band Crush
. The night is set to include Arletta, Magic Magic, and Mr. Sister. We will definitely, definitely be there.