Oh, Oklahoma! - The Flaming Lips get all Official
FROM OUR INBOX:
The Oklahoma State Legislature have voted through Senate Joint Resolution 24, which names
"Do You Realize??"
by The Flaming Lips as The Official Oklahoma State Rock and Roll Song. (Oh really?)
File Under:

You Can't Make This Kind of Stuff Up...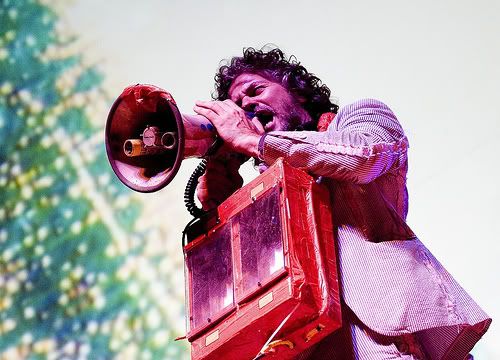 Wayne Coyne of Flaming Lips
THE LIPS, THEY'RE BIG IN OK! -
Jill Simpson, Director of the Oklahoma Film & Music Office, expressed: "The legislature's official naming of 'Do You Realize??' as Oklahoma's Official Rock Song is the culmination of a nearly two-year process. I don't think any of us involved anticipated just how tough this choice was going to be for both our panel of judges and the voting public."
"Do You Realize,"
was released on the Grammy winning, gold-certified album
Yoshimi Battles the Pink Robots
(2002). People in Oklahoma can expect to be hearing a lot more of the song these days.
Eyes on the Prize:
There were 2,500 nominations were submitted for 458 songs. After verifying that each recommendation had an Oklahoma connection, the Oklahoma Historical Society then set forth a final list which includes tracks from six decades; the finalists were "Let's Have a Party" by Wanda Jackson (1958); "Do You Realize??" by THE FLAMING LIPS (2002); "Walk Don't Run" by The Ventures (1960); "Endless Oklahoma Sky" by John Moreland and the Black Gold Band (2008); "Home Sweet Oklahoma" by Leon Russell (1971); "Move Along" by the All-American Rejects (2005); "Never Been to Spain" written by Hoyt Axton (1971); "Oklahoma" by The Call (1986); "Heartbreak Hotel" written by Mae Boren Axton (1956); and "After Midnight" by J.J. Cale (1965). After being announced in a press conference on September 2, 2008, the ten songs were put to a public vote on the website
oklahomarocksong.org
. As the final step in the rock-song selection process, "
Do You Realize??
" will now be presented to the Oklahoma Senate and House of Representatives.
the 2008 Flaming Lips Movie
NEW SONGS:
The Flaming Lips return to the studio this month to record the much awaited follow album to At War With The Mystics. They are going to be working with long time collaborator David Fridmann. The album, we hear, is due out sometime this summer. A New Single will be released on a 7" Single on April 18th. We will be all over this one!