Cursive! Low Price on the new LP solves this Economy
Digital download Cursive's New Album for just $4 - !
Cursive has returned bringing their brand of indie "
vibe
" music. Churning and slow, yet vibrant, explosive - and always new -
Cursive's
"Mama, I'm Swollen"
is a dynamic telling of self-doubt and confusion. It's pretty much the perfect record for these trying times we find ourselves in. Whether intentional or not... the anger, angst and fear exposed on this new record make it uniquely strong and wild.
Perfect!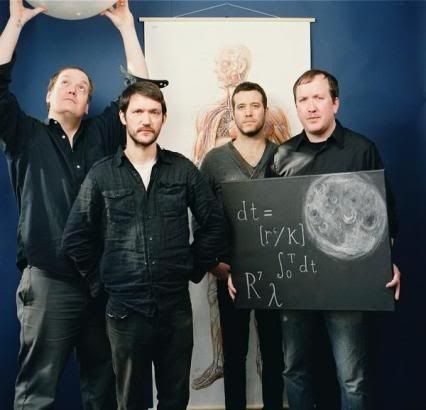 Cursive
Musically, Cursive is as smart and sophisticated as ever on Mama, I'm Swollen. The songs' rousing, cerebral content are interchanged between moment of hushed near-silence and pure exhilaration! There's the cathartic "
From The Hips
," the noisily melodic romp "
I Couldn't Love You
", the eerily moody and jaunty (and almost prayer-like "
Let Me Up
," and "
Mama, I'm Swollen.
") From the charging bass lines of album opener "
In The Now
" to the quiet first chords of confessional closer "
What Have I Done?
", Mama, I'm Swollen is a natural progression that remains distinctively Cursive!
OK, HERE'S THE DEAL:
Set for a March 10 Release in record stores, Cursive and label
Saddle Creek
have their own economic stimulus package for you. The price for a digital download started out at just $1 a couple of days ago, and rises one dollar a day until March 10 - when you can pick up the physical record in stores or through the Saddle Creek store. (Sorry readers, I've had too much to do to get this to you a moment sooner!)
But if you act today, you still get the record for just $4
- which is still pretty damn incredible! (And $5 for tomorrow is a pretty sweet deal too!) Even if you pay full price for this one, it's gonna be worth it!
Cursive will make their national television debut on the Late Show with David Letterman on Friday March 13th
.