Ben Folds - Cure for Seasonal Affective Disorder
Prescription: BEN FOLDS! -
I'm not sure how many of you folks have, like me, a set of your own seasonal music. In Boston, winter officially starts either when the leaves have fully abandoned the trees or you find you are accosted by Christmas music at every turn...whichever comes first. It's March and therefore almost Springtime and we are buried today under another fresh foot of snow today! Sigh. (Mother Nature has a really dark sense of humor!) Time to listen to some uplifting and transporting music. It's time for Ben Folds!
Ben Folds in Toronto
Album: February 17, 2009 - pictures by Pete Nema
My Winter Mix has always included Ben Folds:
For a dozen years now, the king of my winter albums has been
Whatever and Ever Amen
, by
Ben Folds Five
. Its a perfect blend of mellow and "in-your-face" piano rock. Let me state clearly that Piano Rock is not a genre that I am drawn to. However, this is one of my all-time top ten albums. Besides the fact that each song is noteworthy, even the arrangement of the songs on the record is perfect.
This one starts out Ben's foot on the gas with oddly named "
One Angry Dwarf
and 200 Solemn Faces
" and ends with the powerful ballad "
Evaporated
". They bring you up and take you down with a variety of moods and modes. From the smooth, flowing, jazz-influenced "
Selfless, Cold and Composed
" to the raw-nerved "
Song for the Dumped
" to the simply brilliant "
Kate
". For more on this, check out
this post on Forgotten Disc Fridays
.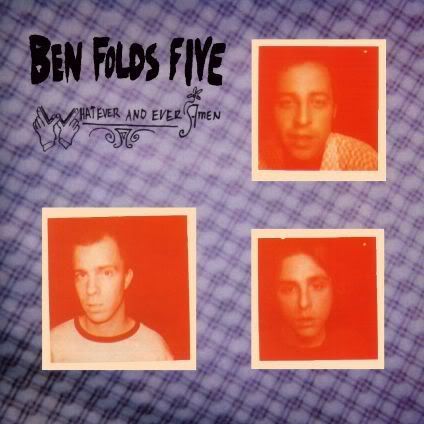 Top to bottom fantastic, Ben Folds takes once again shows his range. His duet with
Regina Spektor
is a light-hearted and quirky tune. Of course, we have a variety of breakup songs, such as the humorous "
Bitch Went Nuts
," with a prelude that is actually at the end of the previous track "Free Coffee". There is also the sad ballad "
Cologne
" about a couple's long-distance split and the bouncy breakup tune "
Brainwascht
" which serves as a warning about dating musicians:
"if you had to say it all with a pop song, couldn't you at least have written a good one"
An RSL Top Album of 2008
, I highly recommend adding Ben Folds' Way to Normal album to your collection. (And now you also have an old favorite to pick up too!) In the meantime, check out his cover of the Postal Service's "
Such Great Heights
".
HIGHLY RECOMMENDED

VIDEO!
Google Video Player (link)