VOLCANO SUNS Albums are Reissued!
Once Upon A Time, there was A Band known as Volcano Suns

...
DATELINE: BOSTON -
The Bright Orange Years
(1985) and
All-Night Lotus Party
(1986), the classic first releases from Boston's beloved Volcano Suns have gotten the reissue treatment from the good folks at
Merge Records
. The songs on both collections were lovingly remastered by engineer Bob Weston and have never sounded better. Now these two post-punk masterpieces will be available to fans on CD for the first time ever! Packed with original material and some added bonuses (including rare live recordings) this is a must have for the enthusiasts of "the Boston Sound." For a limited time, you can buy both records now at the same time for
a special low price
.
Now On CD for the First Time Ever: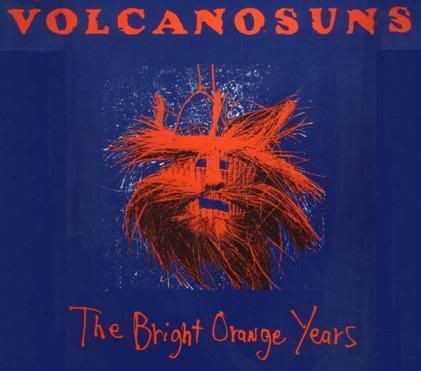 BORN IN STATIC -
Volcano Suns were founded in Boston in 1983 by former Mission of Burma drummer Peter Prescott. In 1985, the band, with Jon Williams on guitar and Jeff Weigand on bass, released their debut album, The Bright Orange Years, and followed it up a year later with another classic, All Night Lotus Party. Both albums were originally released on Homestead Records but have never been available on CD.
THE VOLCANO SUNS SOUND -
Merging noise, aggression and tunefulness seamlessly, it is a wonder that the Volcano Suns were not huge from the get-go. The re-issue of the
Bright Orange Years
adds classic 7-inch-only tracks like "
Sea Cruise
" (featuring backing vocals from the members of Christmas), "
Greasy Spine
" (featuring a thumping bassline, gospel shouting, Fripp-ish guitar tone and a singalong chant) and "
Tree Stomp
", plus unreleased tracks and radio sessions. The reissue of
All-Night Lotus Party
features 11 bonus tracks (many previously unreleased). If you are an old fan, these records are a must-have. If you are new to the band this is one hell of a starting point!