The Yeah Yeah Yeahs - a New Direction?
DATELINE: NYC
-
It's Blitz!
(April 14) is the Yeah Yeah Yeahs followup to 2006's masterful and decidedly indie rock,
Show Your Bones
. Based on the press release we received from their band [Yeah Yeah Yeahs are Karen O (vocals), Nick Zinner (guitar, keyboard) and Brian Chase (drums)] along with the surprising new single,
Zero
, indicating the band is headed in a totally new direction in 2009. (Think a lot less guitar, prominent synthesizers and pop production values.)
The Yeah Yeah Yeahs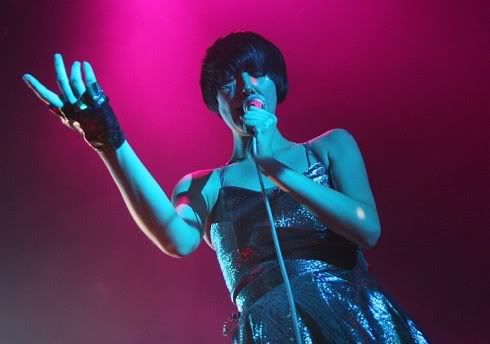 Karen O
::
photo by Simon Leak
PRESS RELEASE:
"It's Blitz!"
will be released on 14th April on DGC/Interscope preceded a week prior by single
"Zero"
- a huge, electronic dance-floor anthem of a song. NOTHING else feels like this right now. "We've got a death grip on the adolescent way of feeling things," says Karen O, touching on the track's euphoric abandon.
Editor's Note:
Please listen and decide for yourself...
It should be interesting to see if the YYY's new direction totally enthralls or simply serves to disengage the band's core fans. What's your feeling?