Dark Was The Night!
PICK IT UP - ROCK FOR A CAUSE:
Musicians are working together these days performing some pretty sensational songs for Dark Was The Night a new benefit albums for the
Red Hot organization
(an international charity dedicated to raising money and awareness for HIV and AIDS through popular culture). The latest compilation (a double CD) was produced by Bryan and Aaron Dessner from
the National
. This one offers up
all new, original songs from some seriously hefty talent
(see below) and it goes on sale on Tuesday. Never has doing the right thing sounded so good!
Read on to for the artist/track list and to find out how you those of you in the Boston/Cambridge area can listen - and maybe win a copy tonight - before you can even buy the album: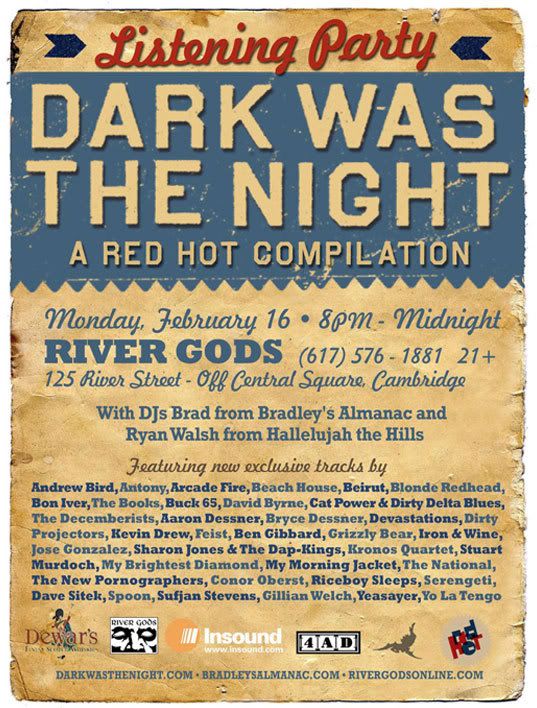 DARK WAS THE NIGHT
TRACKLISTING:
Disc One
01. "Knotty Pine" -
Dirty Projectors & David Byrne
02. "Cello Song" (Nick Drake) -
The Books featuring Jose Gonzalez
03. "Train Song" (Vashti Bunyan recorded, written by Alasdair Clayre) -
Feist & Ben Gibbard
04. "Brackett, WI" -
Bon Iver
05. "Deep Blue Sea" -
Grizzly Bear
06. "So Far Around the Bend" -
The National
(
arrangement by Nico Muhly
)
07. "Tightrope" -
Yeasayer
08. "Feeling Good" (popularized by Nina Simone) -
My Brightest Diamond
09. "Dark Was the Night" (Blind Willie Johnson) -
Kronos Quartet
10. "I Was Young When I Left Home" (Bob Dylan) -
Antony & Bryce Dessner
11. "Big Red Machine" -
Justin Vernon & Aaron Dessner
12. "Sleepless" -
The Decemberists
13. "Stolen Houses" (Die) -
Iron and Wine
14. "Service Bell" -
Grizzly Bear & Feist
15. "You Are The Blood" -
Sufjan Stevens
Disc Two
01. "Well-Alright" -
Spoon
02. "Lenin" -
Arcade Fire
03. Mimizan -
Beirut
04. "El Caporal" -
My Morning Jacket
05. "Inspiration Information" (Shuggie Otis) -
Sharon Jones & The Dap-Kings
06. "With A Girl Like You" (The Troggs) -
Dave Sitek
07. "Blood Pt 2" (based on original song "You are the Blood" by the Castanets) -
Buck 5 Remix
(
featuring Sufjan Stevens and Serenget
i)
08. "Hey, Snow White" (Destroyer) -
The New Pornographers
09. "Gentle Hour" (Snapper) -
Yo La Tengo
10. "Another Saturday" (traditional song) -
Stuart Murdoch
(Belle & Sebastian)
11. "Happiness" -
Riceboy Sleeps
12. "Amazing Grace" (traditional song) -
Cat Power and Dirty Delta Blues
13. "The Giant Of Illinois" (Handsome Family) -
Andrew Bird
14. "Lua" -
Conor Oberst & Gillian Welch
15. "When the Road Runs Out" -
Blonde Redhead & Devastations
16. "Love vs. Porn" -
Kevin Drew
(Broken Social Scene)
HEY BOSTON, CD LISTENING PARTY TONIGHT!
Our friend DJ Brad from
Bradley's Almanac
is hosting a listening party for Dark Was The Night at
River Gods
in Cambridge. This is your chance to hear the material before anyone else and to maybe even win a copy before you can buy it. (And, of course, to have a great time listening to exceptional new music!)
The evening kicks off at 8pm
, and is brought to you by
Red Hot
,
4AD
,
Insound
,
River Gods
,
Dewar's
, and of course,
Bradley's Almanac
. River Gods is located at 125 Cambridge St., in Cambridge, MA, near Central Square. The Facebook event page for the listening party
is here
, and to preview some songs from the compilation,
head here
.
The listening party will include giveaways
(several copies of the two-disc compilation, along with some surprise musical goodies, and even some complimentary beverages), and guest DJ Ryan Walsh from Boston-based band
Hallelujah the Hills
, who will join me in selecting songs to play before and after the album itself. And in the spirit of the occasion, we'll also be collecting donations for the
Boston Living Center
, an area HIV/AIDS assistance program, so bring a few extra dollars for the jar if you can spare them.